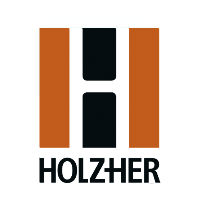 —
HOLZHER
1255
Vertical panel saw
restore Production year: 2009 error_outline Status: Discreet
domain Availability: In stock check_circle EC legislation: Compliant
Price on request
chat Request info
linear_scale
Effective length:
4300 mm
reorder
Effective height:
2200 mm
view_agenda
Effective thickness:
60 mm
Description
Vertical panel saw
HOLZHER 1255
For cutting panels both vertically and horizontally.
Blade diameter 250 mm

Materials:

Chipboard - Multilayer - Solid wood - Mdf - Plexiglass - Polycarbonate - Plastic materials - Sandwich type composite panels (Alucobond, Etalbond, Reynebond, Dibond, etc..) - Corian, etc.
settings
Technical details
Effective working
Effective thickness
60 mm
Details
Middle table
check_circle
*Shown values may vary depending on the configuration of the machine.
Related machineries
GMC KGS400 E
Vertical panel saws
A strenght and stabil monobloc structure with sizes reduced of maximum allows to cut boards of considerable dimension in a minimum room.
Upper fence made of ground hardened and tempered steel always ensuring accurate square edging processing.
Circular saw blade Ø 250 mm
Circular saw speed 4800 rpm

swap_horiz
Discover more open_in_new
BRAND: HOLZHER
MODEL: 1255
check_box
EC legislation:
Compliant
business
Availability:
In stock
Request infos
HOLZHER 1255