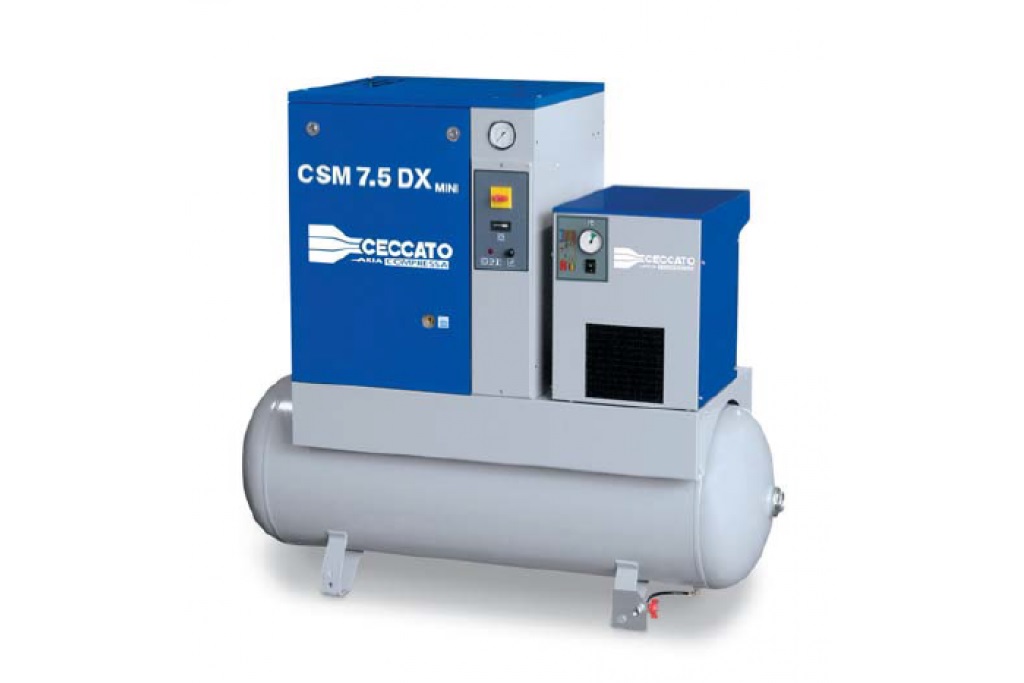 —
CECCATO

CSM 7,5 DX MINI
Screw Rotary Compressor
Price on request
get_app Technical sheet
chat Request info
flip
Compressor type:
Vite
language
Tank litres:
500
format_align_left
Capacity:
700 l/min
view_week
Maximum operating pressure:
8 bar
Description
Screw Rotary Compressor
CECCATO CSM 7,5 DX MINI
MINI Dry - Version with dryer
Especially suitable for installations with low-dew compressed air requirements.
The power plant consists of electrocompressor, tank and refrigerator dryer with R134a gas with dew point indicator and timed discharge of the condenses.
Provides compressed air without condensation
Protect equipment operation
Improve the quality of the final product
Needs less space to install
Cancel shagger installation costs
Respect the environment with the use of ecological gas

Low noise level
If until now, for small-power compressors, noise pollution, given the type of user, was not considered with the right attention, with the CSM MINI, the problem no longer exists.

Smart condensation dumper
Advantages:
Download only water, NOT compressed air - Energy savings
Silent, No Acoustic Impact - Respect for the Environment
settings
Technical details
Details
Maximum operating pressure
8 bar
*Shown values may vary depending on the configuration of the machine.
get_app Download Technical Sheet
Related machineries
CECCATO BELTAIR PRO 270 C4R
Compressors
4 HP twin-stage twin-cylinder compressor with cast-iron cylinders,
ON/OFF pressure switch for easy control
Pressure reducer to adjust desired outlet pressure
Handle and wheels (including jockey wheel) for easy transport
Steel fan guard for protection
Cast iron cylinders for improved cooling
After cooler for reduced air temperature
swap_horiz
Discover more open_in_new
BRAND: CECCATO
MODEL: CSM 7,5 DX MINI
check_box
EC legislation:
Compliant
Request infos
CECCATO CSM 7,5 DX MINI