donut_large
Blade diameter:
315 mm
view_agenda
Cut heght:
104 mm
linear_scale
Wagon length:
3200 mm
drag_indicator
Tilting spindle
Description
Combination Machine
FELDER CF 741
NEW: CF 741 Premium combination machine
Everything you need for perfect woodworking results in just two and a half square metres: The Felder CF 741 woodworking centre combines the advantages of five stand alone machines and brings high performance, precision and shortest changeover times into every workshop. Planing, moulding, cutting and drilling – a top quality workshop in one machine. With the Professional package the operating comfort is increased even further ensuring simple processing of larger workpieces.
Highlights:
High quality 700 series aggregates guarantee reliable quality and precision
Simple, syncronised opening of the solid planing tables
Optimised planing fence design ensures the smallest possible space requirement
10 year guarantee: "X-Roll" sliding table for maximum load bearing
Tried and tested Felder spindle quick change system: Felder MULTI adjustment system
Optional: Height and angle adjustment of the saw and spindle accurate to a tenth of a millimetre as well as thicknessing height adjustment with the electronic "Power-Drive" control.
Maintenance free tilting guide segment "Easy-Glide" with 6 year warrenty.
... Your decision for Felder, a risk-free decision
The right machine for every budget
Complete reliability in professional use
Tailor made machine solutions
High quality cast iron machine table and aggregates
Innovative detail solutions derived from 60 years of experience – already included in the standard configuration
First class manufacturing and finishing standards
Intuitive application concepts
Modern, distinct design
Quality and precision from Austria
Powerful and efficient
Complete package: Comprehensive service support
CE + GS dust certified
settings
Technical details
Circular blade system details
Scoring (Optional)
check_circle
Electric blade regulator (Optional)
check_circle
Digital parallel guidance
check_circle
Parallel guidance cut wedth
1250 mm
Adjustable rotation speed
check_circle
Spindle moulding machines system details
Tilting spindle
check_circle
Reversible rotation spindle
check_circle
Extensible frame
check_circle
Driver (Optional)
check_circle
Planer system details
Planer plan length
3200 mm
Adjustable advancement speed
check_circle
*Shown values may vary depending on the configuration of the machine.
get_app Download Technical Sheet
Tenons and slots
Large dimensioned and designed for maximum load bearing capacity, the aluminium format sliding table "hovers" on the "X-Roll", a highly developed guiding technology. The X shape ("X-Roll") design of the rollers distributes the load optimally on all sides. The linear surface of the steel rollers running on the hardened and ground guiding surface guarantees unbeatable precision and smoothness. "X-Roll" will guarantee you the quality and precision that you expect from your new tilting spindle moulder. Another reason to choose Felder: 10 year factory guarantee to underline the reliability of "X-Roll".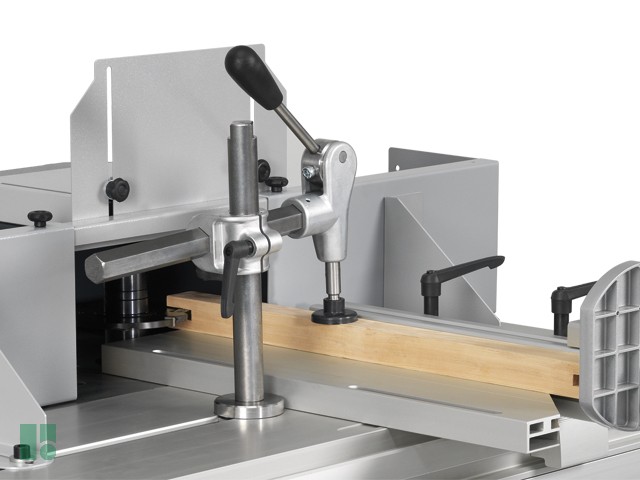 Silent-POWER® (Optional)
Exclusive for planer/thicknessers from the Felder Group. The Silent-Power® spiral cutterblock reduces noise emissions by more than half when planing. The continuous pulling cut ensures tear-free results when planing all types of wood. With this revolutionary new development from Format-4 you are obtaining all of the advantages of a spiral cutterblock at considerably lower operating, investment and adjustment costs. The advantages of the Silent-Power® cutterblock at a glance ...


Extremely quiet, noise is reduced by half


Usable blade life twenty times longer than standard blades


Four highly precise cutting edges on each knife


Optimised chip extraction and reduced chip volume


Tear-free planing results


Reduced power consumption when compared to similar systems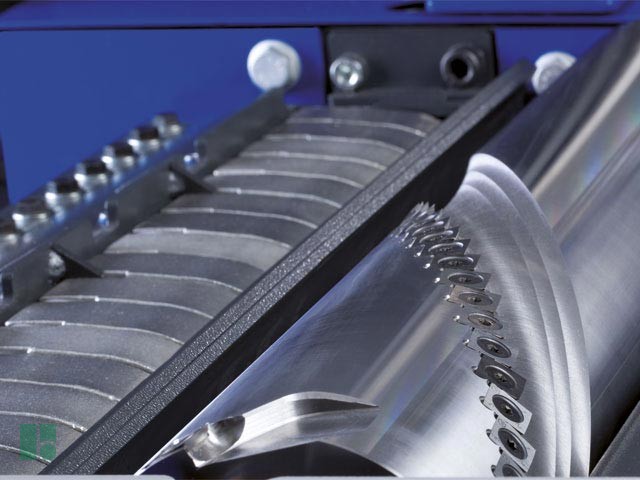 Change the blades in record time
Simple blade settings, carried out incredibly quick - accurate to a tenth of a millimetre, standard with FELDER! Resin free locking screws and the self-setting knives make it possible to change the blade in less than 2 minutes. Time consuming adjustments and purchasing of expensive setting gauges are a thing of the past. The advantages at a glance ...


Quick and effortless knife change


Self-setting blades for high precision when changing the blades


No resin buildup on the clamping bolts


Quiet operation thanks to enclosed design


Excellent durability of knife edges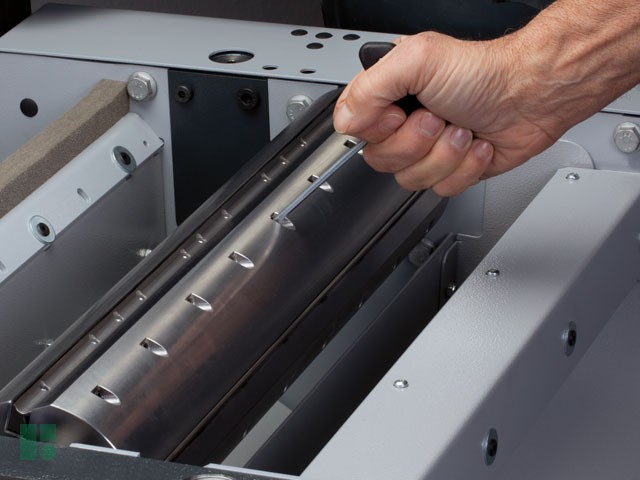 Pneumatic workpiece holder


Easy clamping of workpieces with maximum flexibility, can be used on all panel saws and spindle moulders that have a sliding table


Easy set up due to magnetic fittings


Safety cylinder ensures maximum working safety


Pressure bar function is possible with every sliding table length


Locking height 95 mm


Clamping force approx. 300 kg


Crosscut fence
The crosscut fence 1100 mm for crosscuts between +45° and –45°. The fence can be attached to the sliding table without the use of tools. The end stop provides you with the exact 90° position. The bevelled mitre scale with accurate readout is visible from the operating area, enabling setting of the required crosscut value. The large crosscut fence stops are constructed in such a way that a small tongue on the stop fits perfectly into a groove on the fence. This keeps the stop firmly in place for both straight and mitered cuts.
Precision guiding system
The continuously developed linear guiding system from Felder has been astounding woodworkers since 1990. The high quality­ ­format sliding table guiding ­technology "X-Roll" comes with a 10 year Felder guarantee and offers amazing operating smoothness and is completely maintenance free. The 'x' design of the position of the roller bearings ensures that they move smoothly along hardened guides.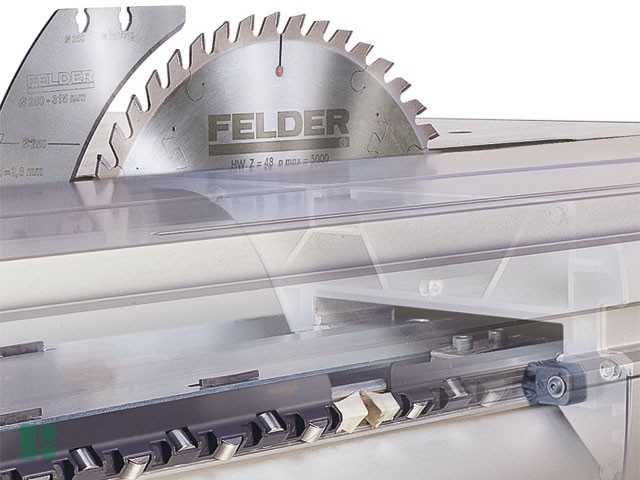 "Easy-Glide" - 6 year guarantee!
The patented tilt segment "Easy-Glide" fulfills the highest requirements in businesses and industries. A precise, guided, doublesided support, guarantees maximum load bearing and tolerance free tilting and is absolutely maintenance free. A special, highly durable synthetic material situated in the guide of the tilting segment ensures extremely smooth movement and long-lasting precision. The tilting guide system, a synthetic material tried and tested in aerospace and lock construction, works without the requirement of lubrication and is totally resistant to dust. With a 6 year factory guarantee this Felder component offers reliabilty for many years to come.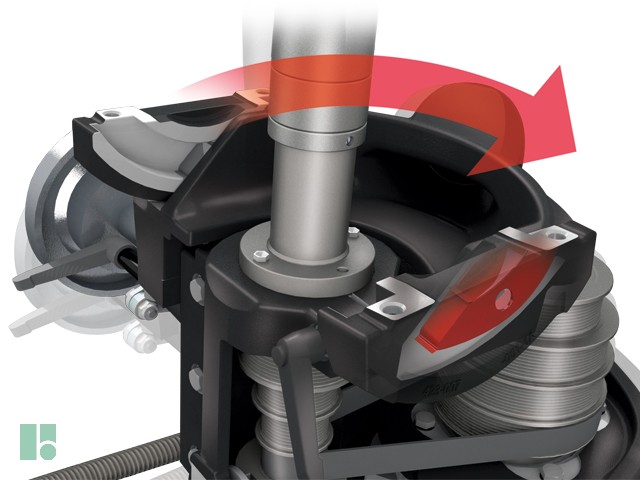 Saw unit 104
The FELDER saw unit "104" Manufactured entirely from cast iron, the new Felder "104" saw unit fulfils the highest demands of modern woodworking.


104 mm cutting height with a 315 mm saw blade diameter


Electronic height adjustment of the saw blade ("Power-Drive" K1)


Electrical height and angle adjustment of the saw unit with LED display ("Power-Drive" K2)


Precise height adjustment via precision linear guides


Optimal extraction with a completely enclosed saw aggregate


Large scale, double ball bearing saw arbour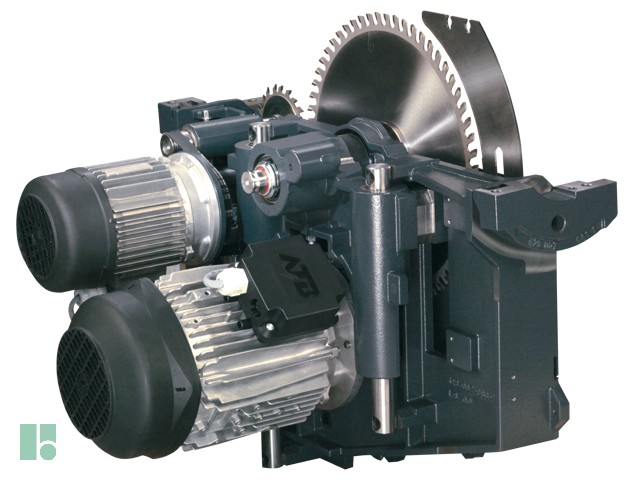 Power-Drive (Saw blade)
Similarly, the saw blade height and angle settings can be set to an accuracy of a tenth of a millimetre. For fine tuning there is also a push button and a clear LED display screen to show you the actual current value.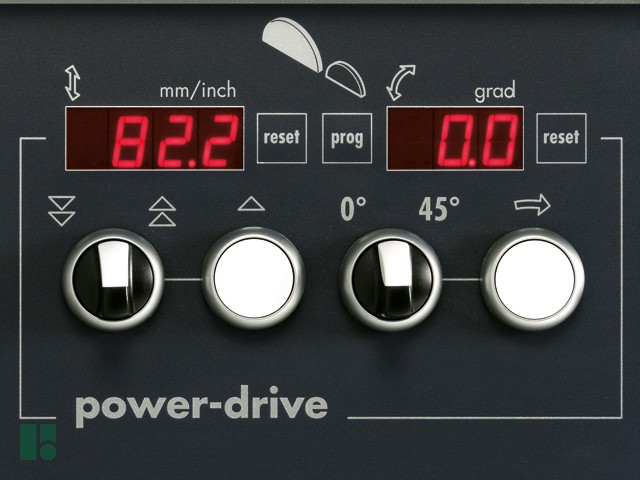 Quick-change spindle system
The spindle quick-change system will provide you with almost limitless possibilities of use. You can use spindles with pre-mounted tools for series production, or use spindles with a different diameter. The spindle can be changed in seconds. A particular highlight is the ability to mount a high speed router spindle with 15000 rpm capability. For maximum stability and durability the Format-4 spindle has been designed with 3 high quality "precision type" bearings!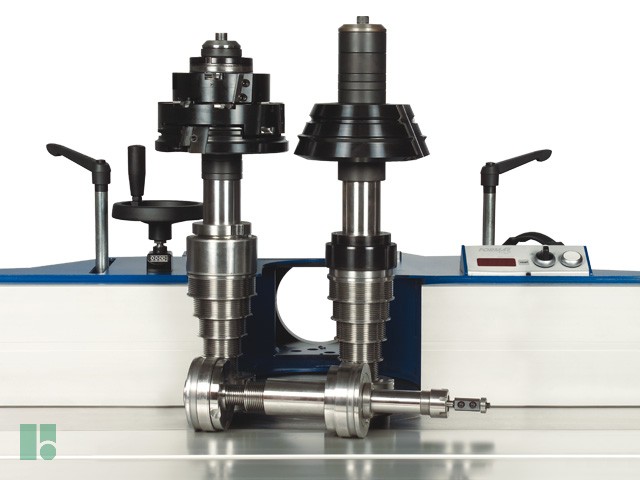 Spindle moulder unit 700
The Felder 700 Series spindle aggregate sets standards that are unparalleled.


115 mm useable spindle height above the table (140/160 mm)


Quick-change system of the moulder spindle


Change the speed simply from the front of the machine


Collet chuck spindle for router tools with a speed of 15000 rpm


Electrical height adjustment with digital LED display


Electrical angle adjustment with digital LED display


4 operating speeds (3500, 6500, 8000, 10000 rpm)


Rearward tilt 0° to 45°


Precise, double sided guide support


Dovetail guidance system of the height adjustment


Excellent vibration absorption from heavy cast iron unit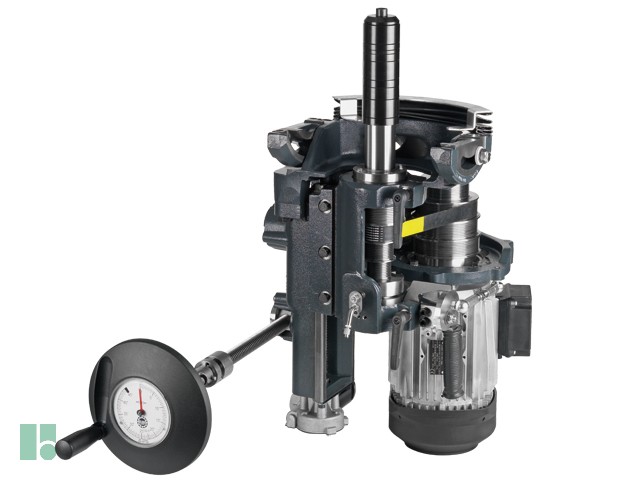 Power-Drive (Moluder spindle)
The fully electrical "Power-Drive" control offers exact adjustment and repeat accuracy. The saw blade height and the angle settings can be adjusted at the turn of a knob, the fine setting adjustments are carried out to tenth of a millimetre accuracy using a push button. Red LED digits display the current position in real time on the control panel.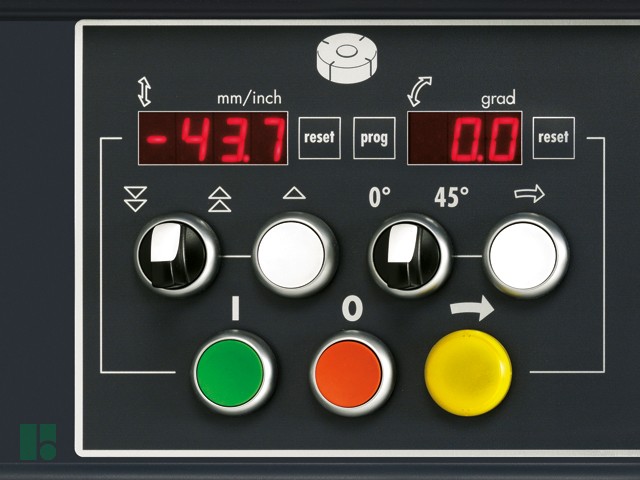 Extensible support
Aluminium table extension with P-coupling "Single lever" clamping system: fast and simple assembly without tools.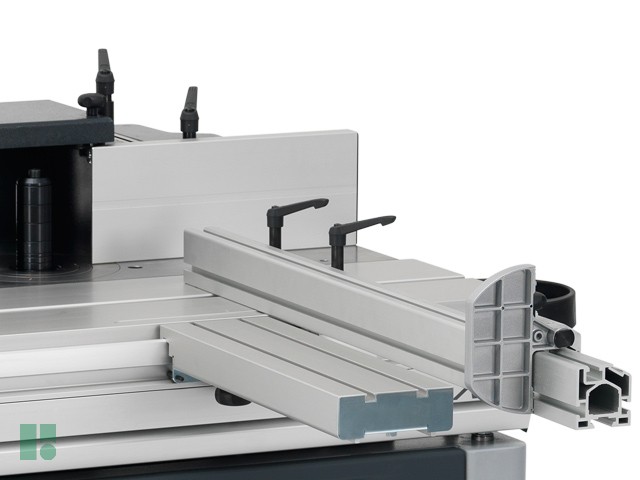 Scoring unit (Optional)
For chip free cutting of laminated panels. The saw blade can be mechanically or electrically driven and can be set in both height and lateral position.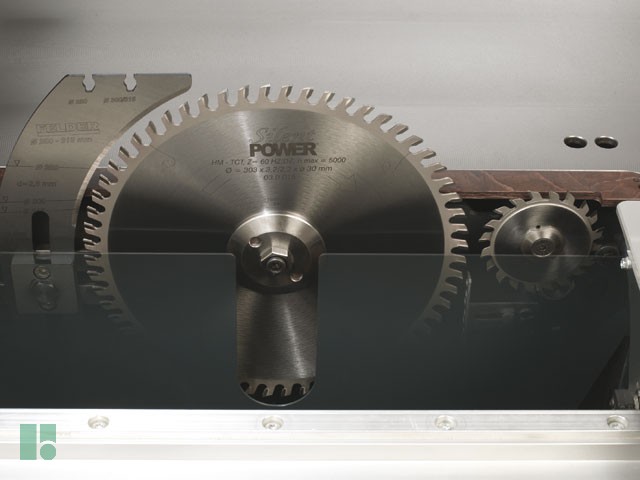 Circilar saw shaft
The electronically balanced saw arbor with dual bearing seat system is powered via a Poly-V belt. This combination results in an almost perfect ­transmission of power to the saw blade.
To use a grooving cutter "Dado cutter" (Optional)
The Felder 700 Series saw unit is fully compatible with dado tooling. Thanks to removable flanges and table insert, the Felder designed, fully adjustable dado cutters can be used.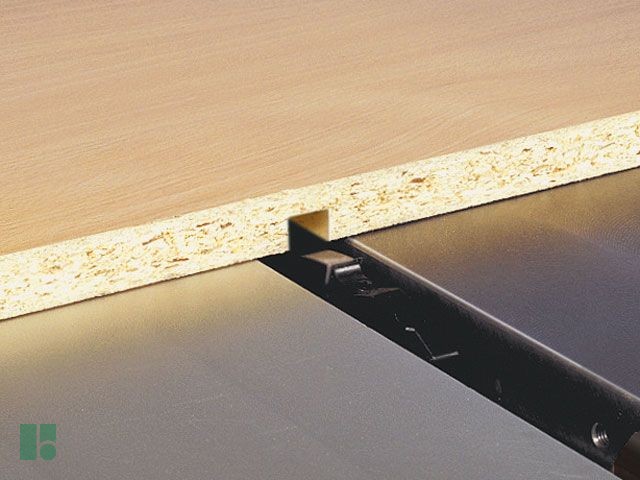 Remote ON switch on sliding table (Optional)
For a convenient option we can equip your Felder 700 Series machine with start buttons for the main and scoring blades.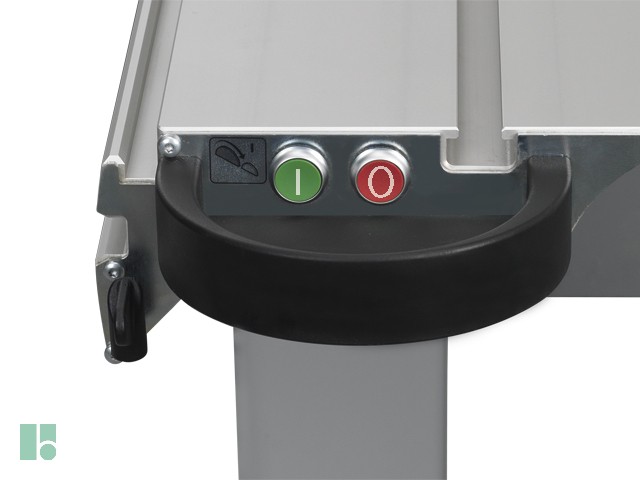 Stop scale
The bevelled mitre scale with accurate readout is visible from the operating area, enabling setting of the required crosscut value.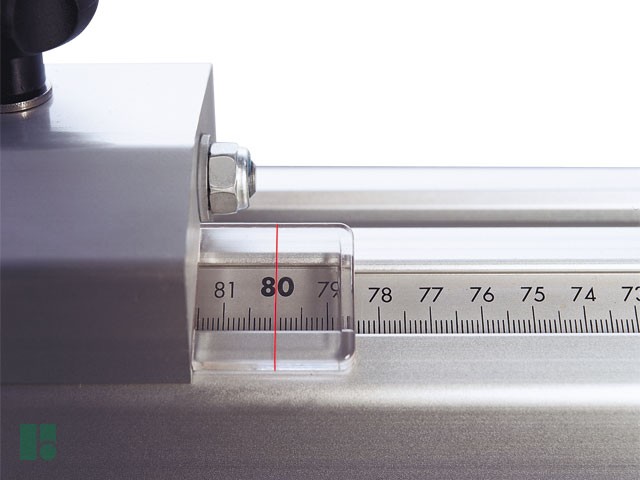 Dual extraction for the spindle function
The dual extraction system from the spindle unit and fence ensures that the machine stays clean and dust free.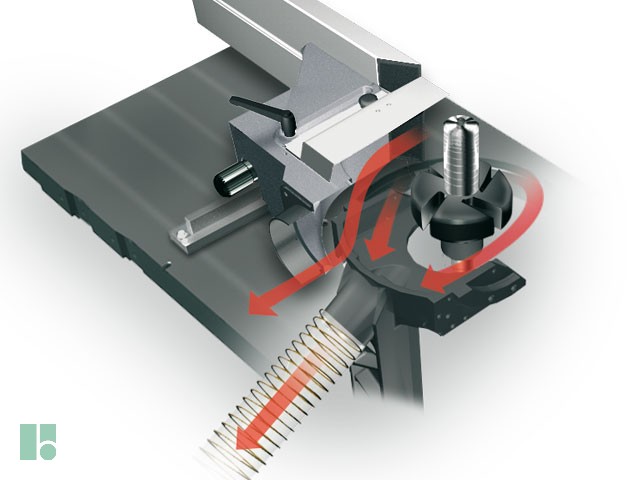 Height adjustment of the thicknesser table
Thicknessing accuracy to one tenth of a millimeter with the use of the handwheel and its integrated digital display. Max. thicknessing height 230 mm.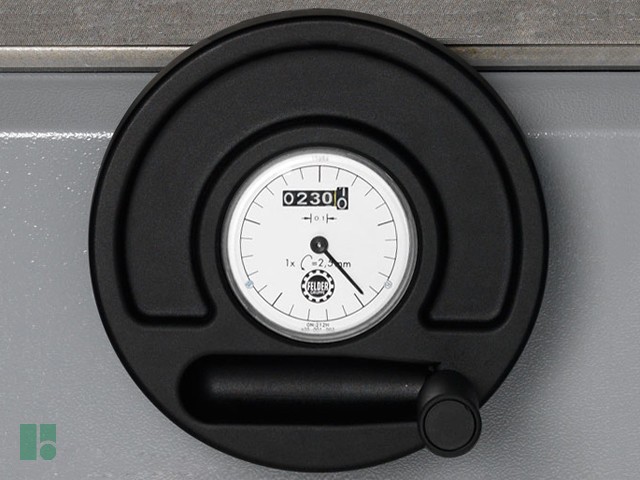 Dust extraction hood
Heavy chip loads are no problem for the chip extraction hood due to its efficient design and large dimension.
Adjusting the depth of cut
The chip removal can be adjusted continuously to up to 4 mm. The magnifying glass guarantees accurate reading of the scale.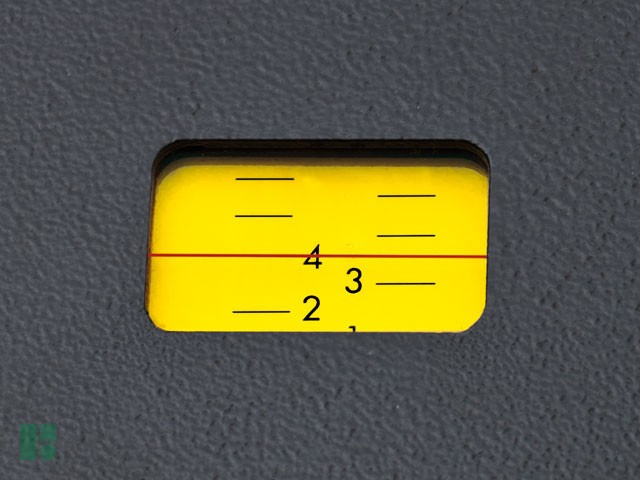 The horizontal mortiser
The horizontal mortiser is mounted on the planer side. An optional ­dowelling device can be added to increase the mortiser capability.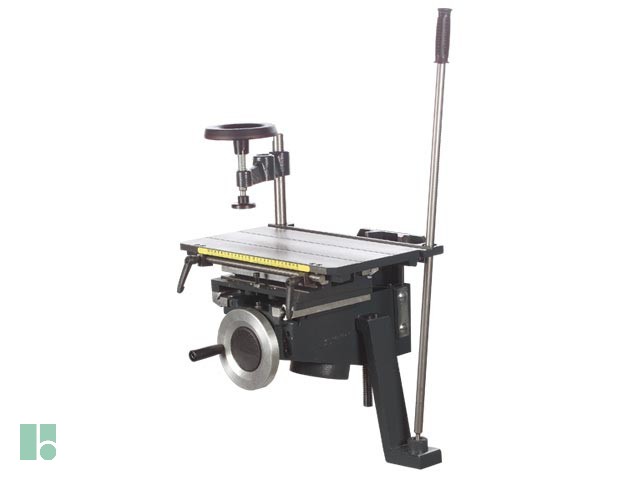 Safety bar guides (Optional)
The safety bar guides are great for end-grain work (optional).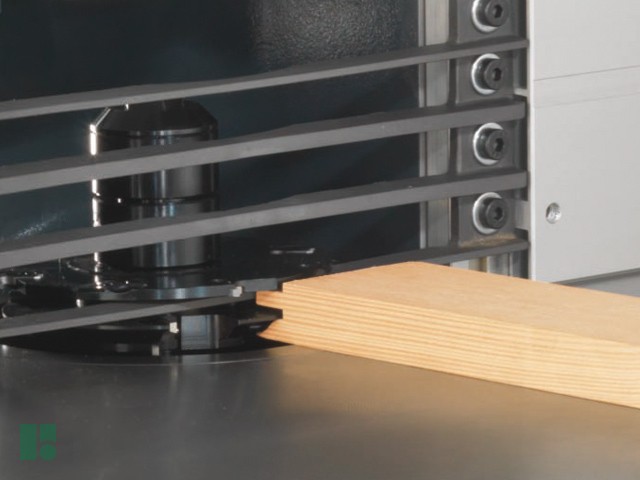 Table opening: 230 mm
The large table opening allows for maximum operator safety. For large dimension tooling, as used for tenoning and panel raising, the cutterblock can be conveniently positioned below the table.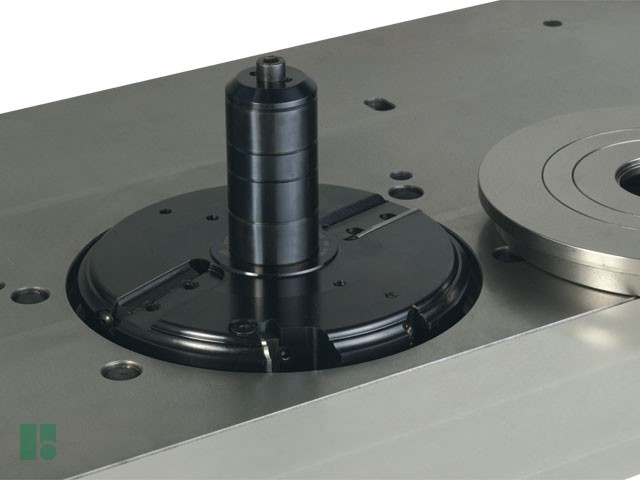 Stability for high performance
The solid cast iron cutterblock housing is built for heavy duty work. The serrated steel infeed roller and the micro-serrated steel outfeed roller guarantee a perfect transport of the workpiece through the machine. Both steel rollers are large dimensioned and non-wearing. If desired we can equip your AD 941 with a rubber infeed roller. This allows workpieces of varying thicknesses to be processed at the same time, equalling out any differences in thickness. The combination of cutterblock, transport rollers and wood type is decisive for perfect planing resuts. The new Felder AD 941 can be individually configured and specified to meet your exact requirements.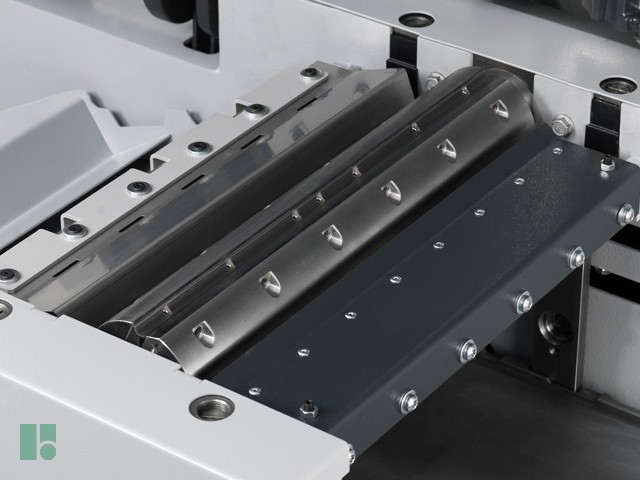 2-stage gear
Simple choice for the power feeder speeds of 6 m/min. and 12 m/min.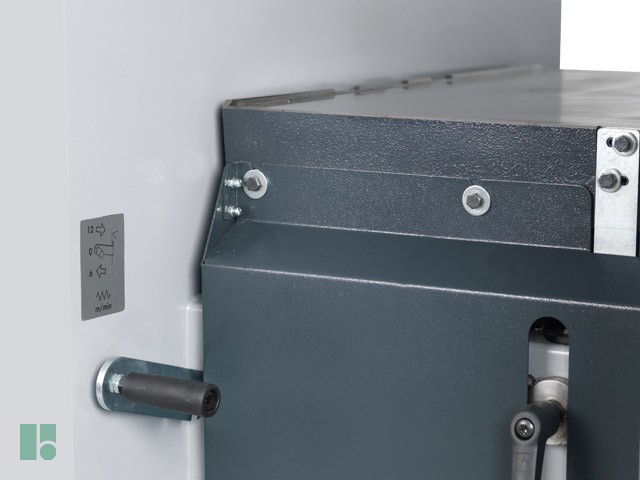 Planer guard EURO "Standard"
The space saving planer guard is integrated into the machine chassis which stabilises the workpiece when planing and bevelling.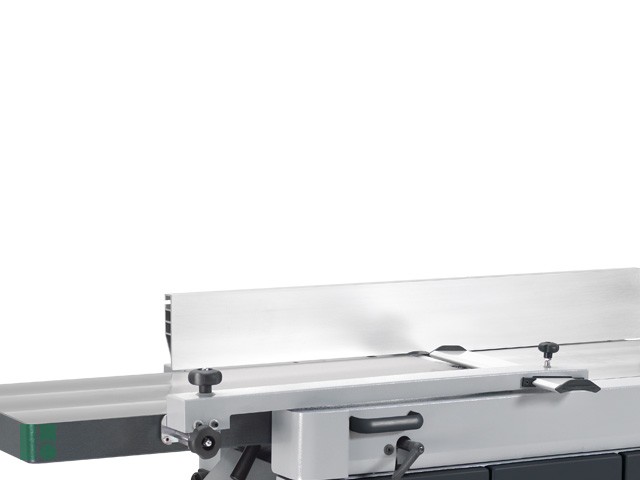 EGL 1350 (Optional)
OUTSTANDING! The patented double mitre gauge from Felder allows for mitre cuts on pieces of differing widths and at any angle. Really easy to use: simply type in the desired angle as well as the widths of your workpieces on the keyboard. Immediately, you will receive the settings and can set the electronic double mitre gauge accordingly. The fence stop on the fence can be adjusted up to 1350 mm with the scale. Regardless of the angles set, the length compensating vernier scale allows you to compensate for the workpiece length.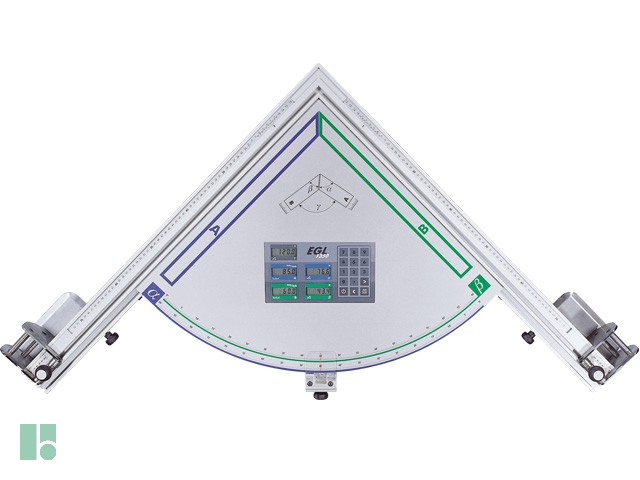 Power feeder (Optional)
The use of a power feeder ensures that standard work when moulding can be carried out cleanly and precisely.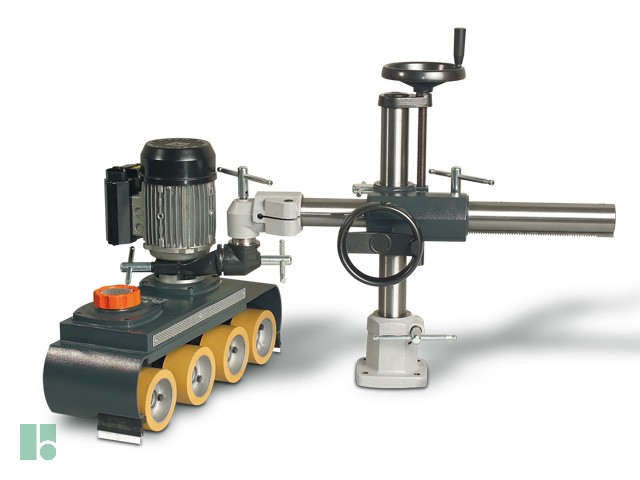 Tilting bracket (Optional)
The Felder device for tilting the feeder away means the power feeder always remains on the machine and can be used at any time with no difficulties.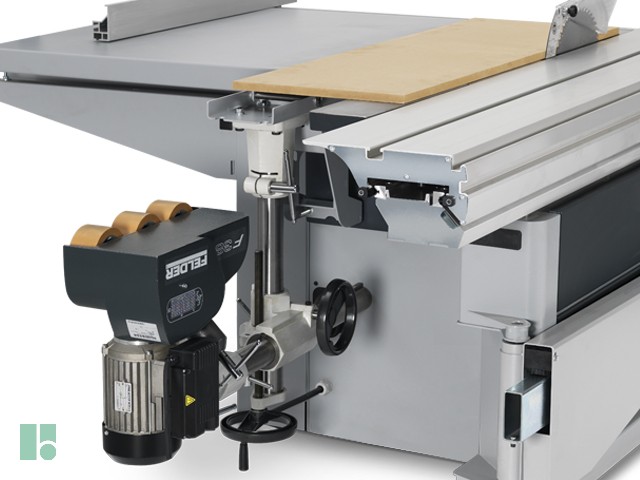 The Felder planer fence
The planer fence may be tilted to any angle between 90° and 45°. End stops are placed at 90° and 45°.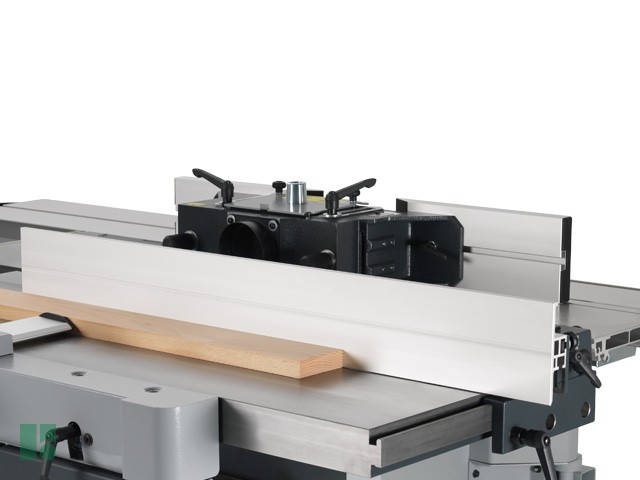 Rip fence
The rip fence is easy and smooth to adjust, with a single-handed clamping mechanism. The optional fine adjustment makes precise measurements possible. The rip scale is easy to read and perfectly integrated into the machine table.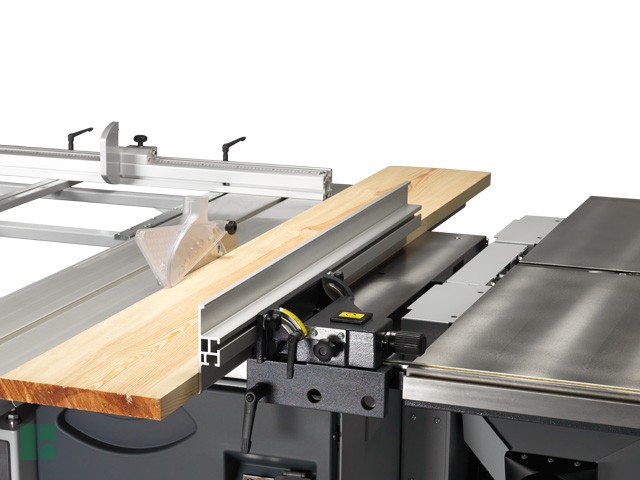 Open planer table
Quickest ever conversion from planer to thicknesser by simultaneously lifting the spring-assisted planer tables.
Multi fine adjustment system
"230" spindle fence for max. tooling diameter 230 mm, MULTI adjustment system for spindle fence "230" enabling parallel alignment and quick setup.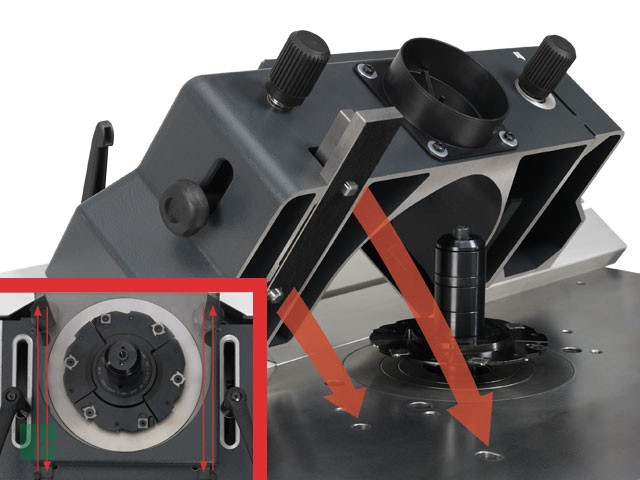 Quick change spindle system
Advantages of the Felder spindle quick change system:


Quick, easy change between different types of spindles


Ability to use 30, 32, 35, 40, 50 mm and 1¼" diameter spindles


Use of the Felder high speed router spindle for router bits or high speed tools at 15000 rpm


Automatic repeatable setting for series production work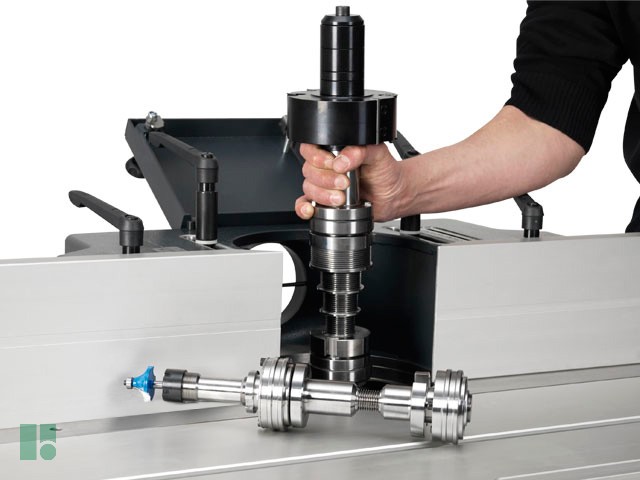 BRAND: FELDER
MODEL: CF 741
check_box
EC legislation:
Compliant
Request infos
FELDER CF 741