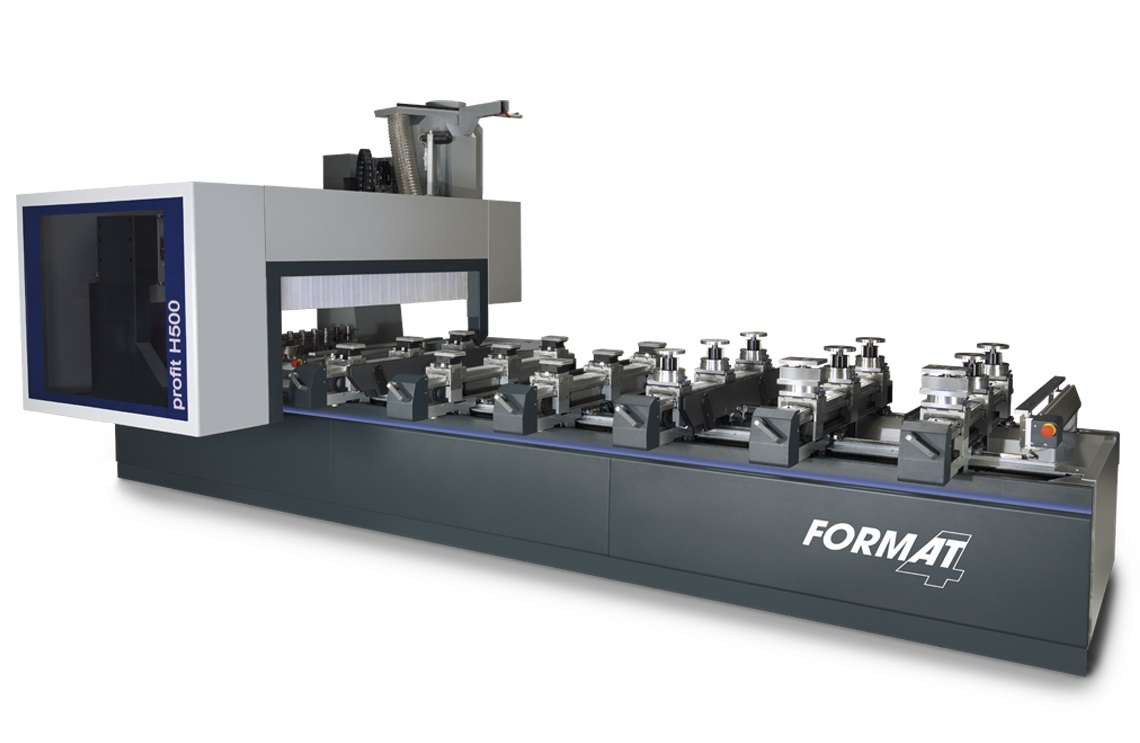 —
FELDER - FORMAT4

profit H500 - 16.38
5 axes CNC Machining Centre
Price on request
get_app Technical sheet
chat Request info
vertical_split
Controlled axes number:
5 - Automatic Servo Motion Plans
filter_list
Arms number:
6 + 8 (Optional)
Description
5 axes CNC Machining Centre
FELDER – FORMAT4 profit H500 – 16.38
One machine, five axes, limitless creativity
It is universal workshops in particular, where the individual processing of various materials is becoming increasingly important. The most up-to-date 5 axes CNC technology guarantees limitless creativity, and at the same time reduces the initial investment cost and subsequent costs for special aggregates and tools. Individual tooling configuration and fully automatic production at a manageable investment level – the Format-4 profit H500 makes the future of component manufacturing profitable. The high performance main spindle guarantees excellent results at every angle regardless of the material. In conjunction with the 18 independent drilling spindles and integrated grooving saw aggregate, the profit H500 offers limitless processing possibilities and ensures shortest possible production cycles.

In the new, completely reengineered design, the CNC machining centres from Format-4 display dynamics, power and high end technology from the first glance.
Hose-free Format-4 dual circuit system with vacuum pod height of 100 mm
2 CNC controlled Z-axes for the shortest of production cycles
e-motion: Automatic console and vacuum pod positioning
5 axes router spindle, solid construction with 12 kW liquid cooled motor
Drawing = programming, intuitive operating software
"Woodflash" software including 3D cabinet software "F4-Design" for presentation, parts list and connection to the machine
Possibility of 5 axes processing with "F4 Solid" powered by AlphaCam
The drilling head covers the whole working field
High quality dual circuit vacuum clamping system with 100 mm vacuum pod height
4 sided door and window processing with automatic delivery, S-Motion consoles
Workpiece thickness up to 250 mm
F4®Solutionsready
... FORMAT-4 Premium machines for premium requirements
Tailor made financing solutions
Constantly high performance in industrial continuous operation
Customer specific optimised production solutions
Solid design with premium components
Many variations of specification packages with high-tech solutions
Complete engineering precision
Premium user comfort
Award winning design
Quality and precision from Austria
Uncompromised productivity
Perfect service package before, during and after the purchase
Compliance with CE regulations
Automation solutions
Networked workshop
Software and machines from a single supplier
settings
Technical details
Effective working
Effective Z
250 mm (maximum height with sucker H 100 mm)
Details
Controlled axes number
5 - Automatic Servo Motion Plans
Mils connection drive motor
HSK 63F
Tools warehouse positions number
24 Rotary + 10 Linear + 24 Rotary
Arms number
6 + 8 (Optional)
Grips number (Optional)
18
Evacuation carpet chips (Optional)
check_circle
Security
Pressure-sensitive (sensing) safety mats
Vacuum pump
1 x 90 m3/h + 1 x 90 m3/h (Optional)
Software/C.N.
Software
Woodflash + F4-Frame (Window) + Cabinet (Mobile Optional)
*Shown values may vary depending on the configuration of the machine.
get_app Download Technical Sheet
The main spindle: 5 axes - no restrictions
The powerful 5 axes spindle with 12 or optionally 15 kW motor guarantees excellent results whilst milling, drilling and sawing at any angle. The special liquid cooling and high quality ceramic bearings ensure durable precision and incredible smoothness regardless of the material. An inverter regulates the speed and can be set at any speed up to 24.000 rpm.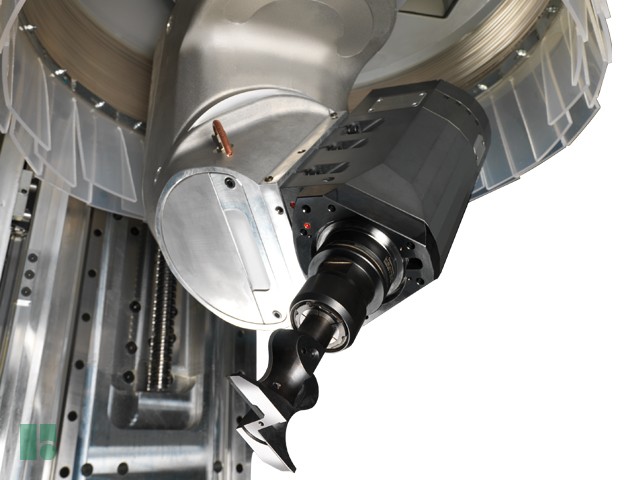 Limitless processing possibilities with the FORMAT-4 boring unit
The drilling head with 18 drilling spindles.


12 vertical drilling spindles, 32 mm distance between spindles: each can be used individually


6 horizontal drilling spindles, spaced at 32 mm: 4 in the X and 2 in the Y axis, each can be used individually


Integrated slot cutter in the X-axis


Inverter controlled motor up to 7,500 rpm


Highlight: The complete working field can be covered by the drilling head for vertical and horizontal drilling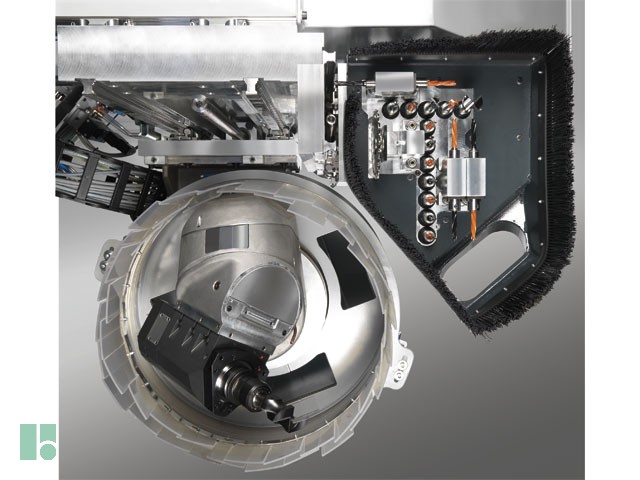 Aggregate carrier with 2 Z-axes
The aggregate carrier with 2 Z-axes enables the quick, alternating use of the boring unit and the main spindle. The distance in which the Z-axes can move is 500 mm; this allows the use of longer tools even when processing thicker workpieces.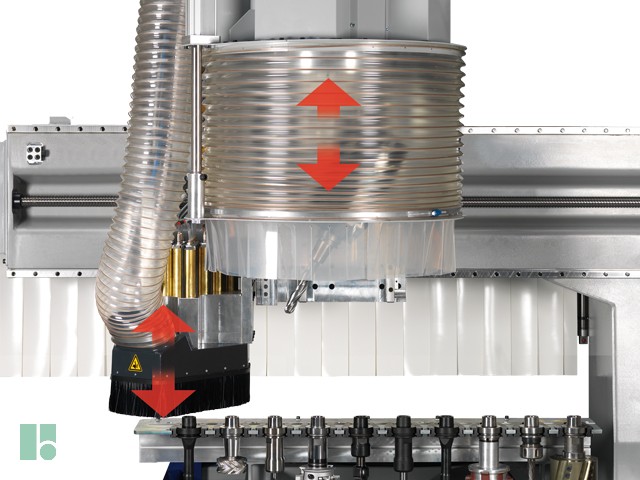 Rotary tool changer, mounted to the outrigger
The rotary tool changer with 18/24 tool positions is mounted at the back of the outrigger and moves with the outrigger along the X axis. The 18/24 position rotating tool changer, keeps tooling changing times to the bare minimum. This makes the Format-4 even more productive!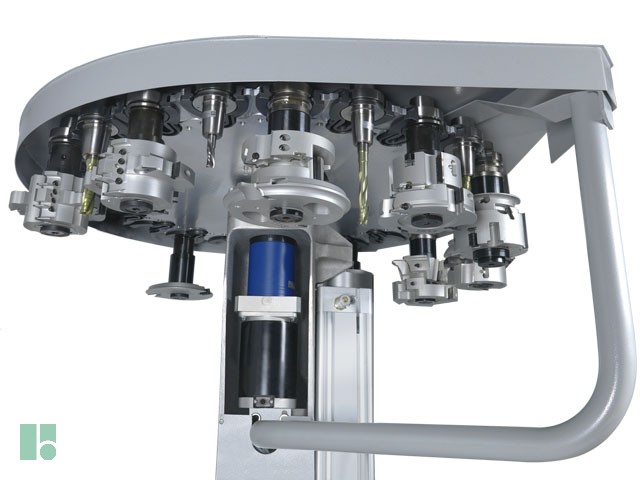 10 position linear tool changer - high flexibility and quick changeover times
The 10 position linear tool changer ensures quick changeover times, minimises the compressed air requirement and offers ample space for milling tools and chip deflectors.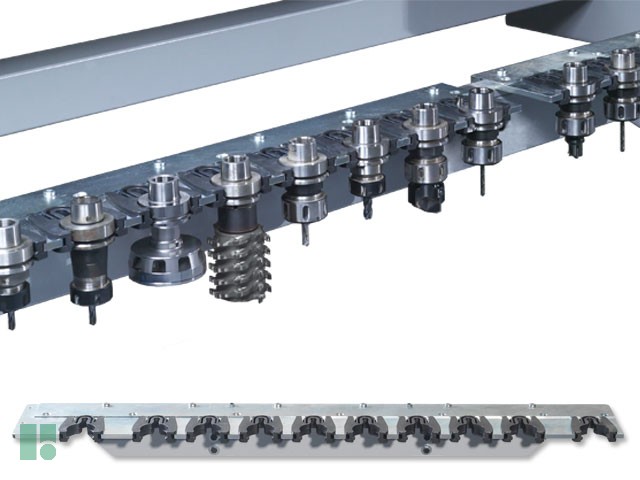 Maximum travelling speed without tolerances - X-axis running along cog and rail
The high quality cog and rail drive of the X-axis with angled and cambered teeth guarantee high precision at maximum speed. The speed reduction gears guarantee a high level of repeatability. Sealed bearings: durable and highly precise recirculating ball bushings run on hardened and ground linear guides.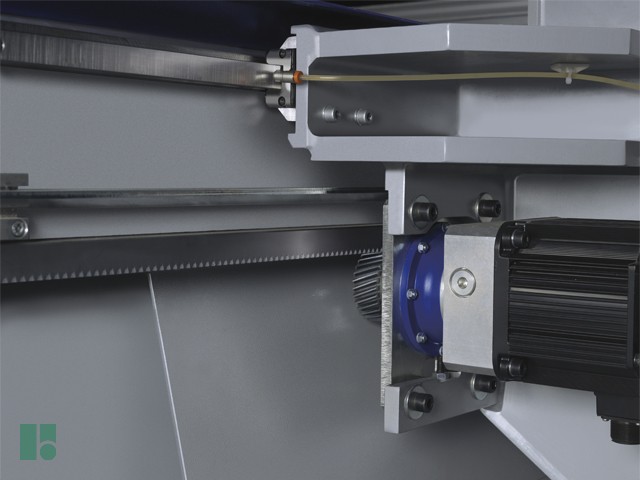 Linear guides
Positioning is carried out by recirculating ball bearings running along hardened and polished linear guides. The Y axis is positioned by a polished recirculating ball spindle.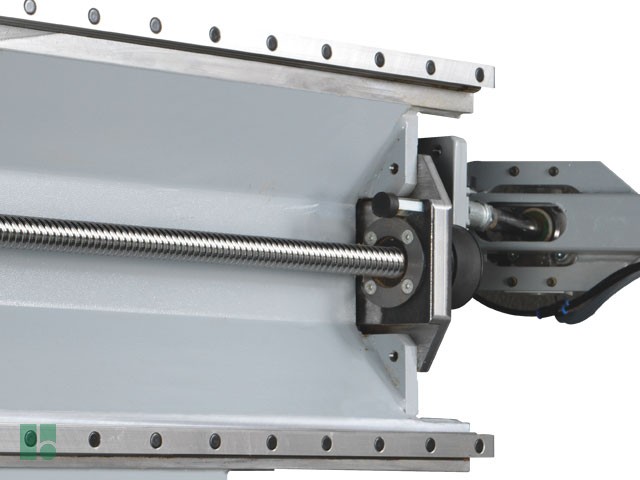 Automatic centralised lubrication
All of the moveable axes are continuously automatically lubricated ensuring low-maintenance, reliability and constant operational readiness. The lubrication is time controlled and pneumatically engaged onto the lubricating points of the X-, Y- and Z- axes guides. The lubricating cycle is set by the controls of the axes.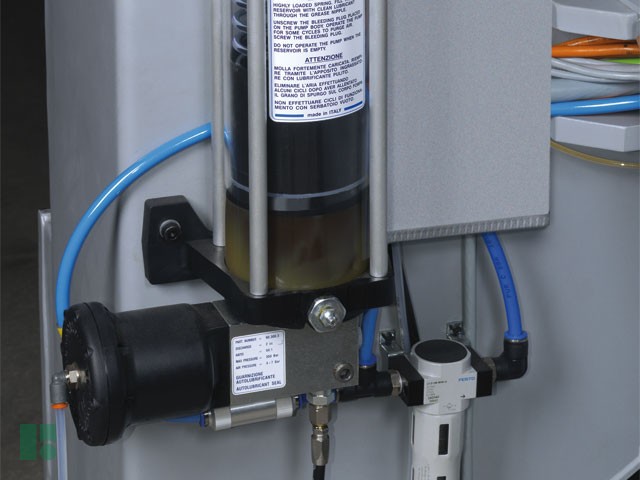 Chip transporter for waste pieces and excess chips (Optional)
The profit H500 ensures a clean workshop without time consuming machine cleaning with the chip transporter positioned in the operating area. The removal can be manually controlled and is situated on the left hand side of the machine.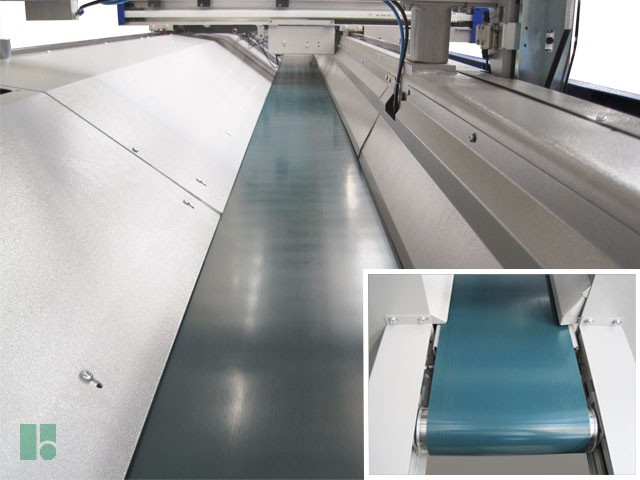 Customised maintenance complete package
The permanent availability of modern production machines is an important influencing factor for the productivity and profit of your company. Continuous, preventative maintenance ensures that your machine is always ready to be used and guarantees constant precision. With our customised maintenance packages, you profit from a long term, continuous high quality of the end product. Additional to a complete machine maintenance check, all of the electrical, pneumatical and mechanical components as well as all of the safety features will be tested. You profit then from a free Hotline Service and will receive special conditions on software, training and spare parts. Get your customised maintenance offer now and guarantee perfect results for years to come.
Secure workpiece support – precise results
A variety of vacuum pad shapes guarantee secure clamping of every conceivable workpiece form and shape.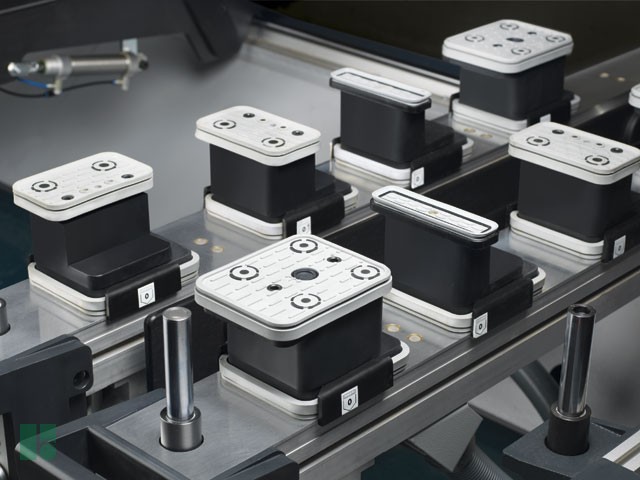 Positioning display of consoles and vacuum pods
The workpiece, consoles and vacuum pods are all displayed in the CNC board simultaneously. This guarantees, that the workpiece is securely positioned and that there can be no collision between the tool and vacuum pod. The exact position of the vacuum pods on the consoles is shown accurately using a laser.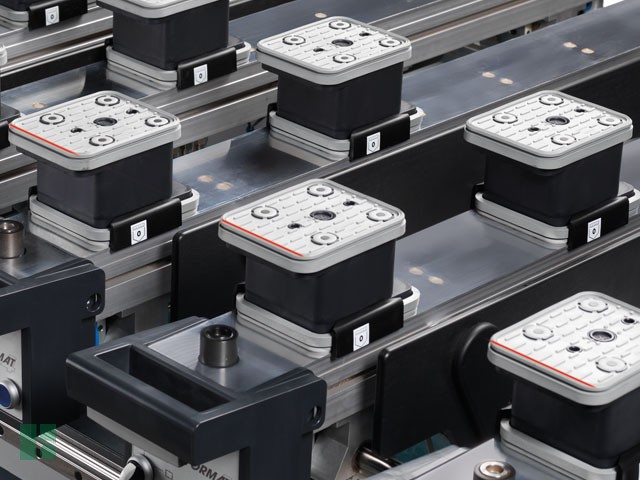 Chipping deflection plate (Optional)
A chip deflector mounted to the spindle controlled by the C-axis enables the unlimited use of existing tools. When machining the edge of a workpiece, dust and chips are directed into the extraction port.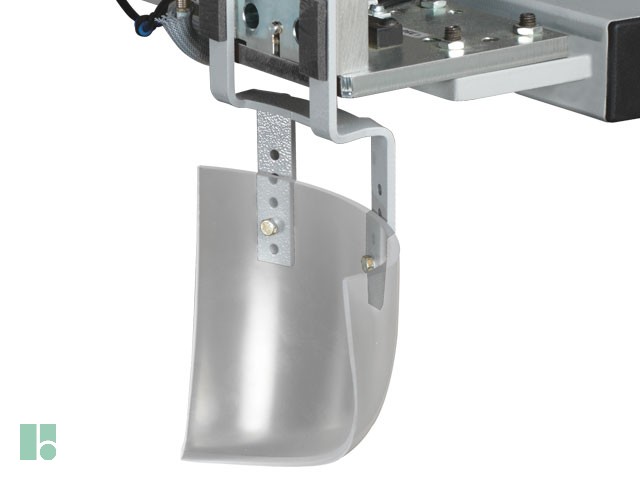 Variable position controlled extraction hood
The extraction hood positions itself fully automatically to the workpiece height which significantly reduces the dust and noise emissions.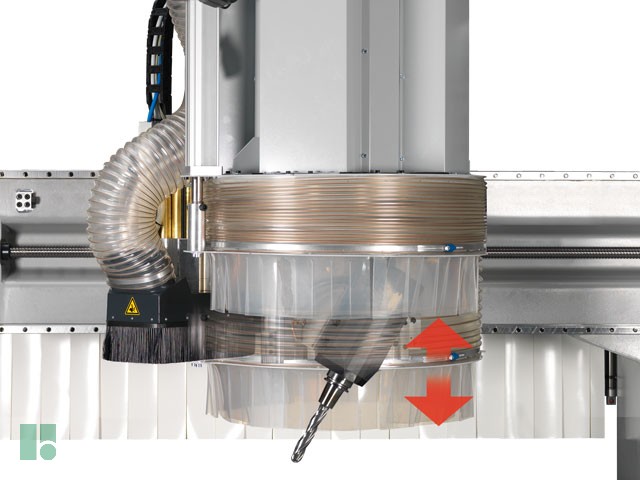 Two different sized working fields for individual requirements
profit H500 16.38: X= 3740 mm - Y= 1505 mm - Z= 350 mm (Passage height from console height)
profit H500 16.56: X= 5540 mm - Y= 1505 mm - Z= 350 mm (Passage height from console height)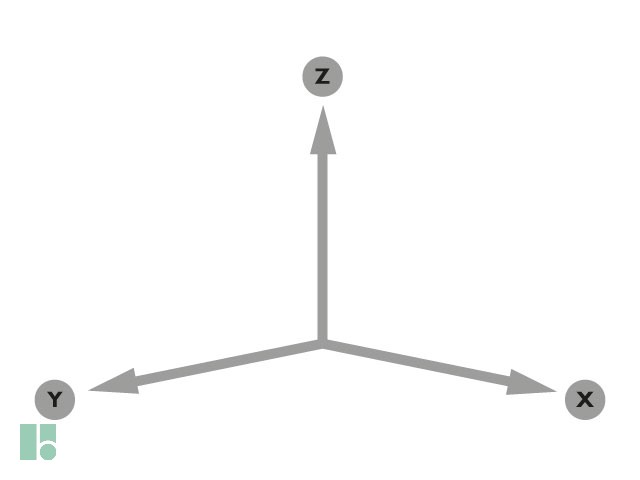 Status indicator (Optional)
The changing colours of the innovative lighting system display the various machine statuses. This makes it possible to keep up-to-date on the current status of your profit CNC Machining Centre.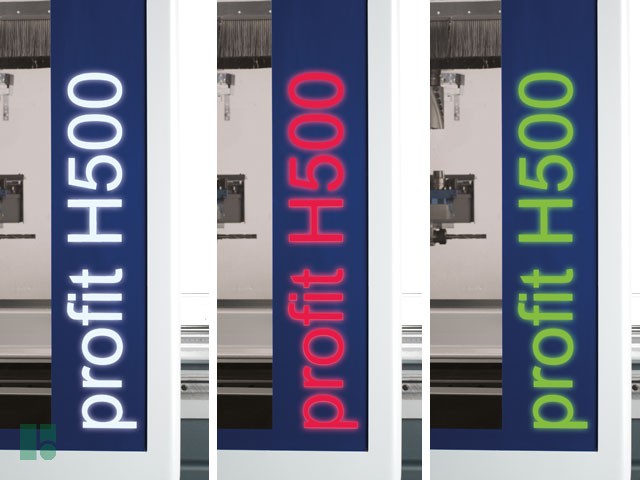 3D simulator with collision control (Optional)
The 3D simulator enables accurate machining times to be calculated and an exact representation of travel distances, feed rate speeds, overtravel heights and optional equipment such as the 5-motion unit, chip deflectors, rotary tool changer and drilling head. The collision check tests whether any collisions could happen and guarantees the working safety on the machine. Through the allocation of the tool DXF profile, the contour of your router can be shown on the workpiece. Even when calibrating new tools, the DXF profile can be used which helps to reduce the amount of material use.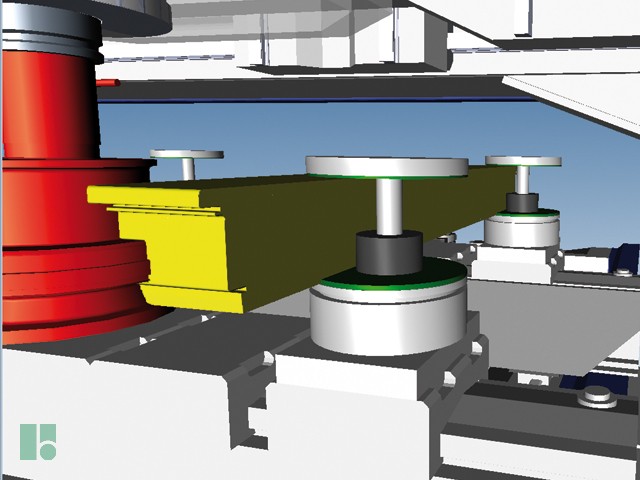 The "s-motion" consoles (Optional)
The fully automatic "s-motion" consoles enable you to completely process door and window components extremely quickly and with first class quality.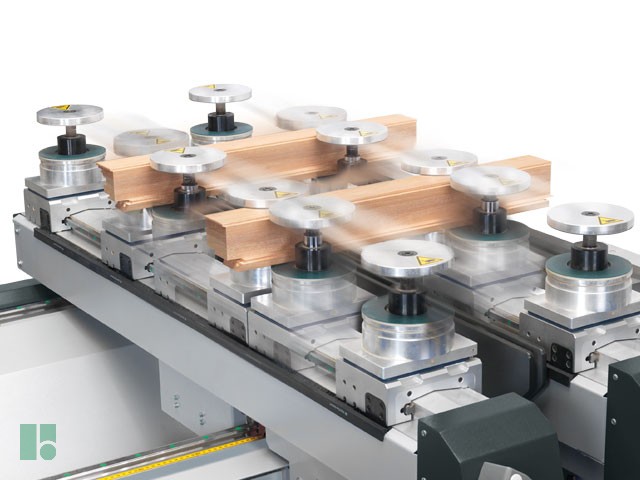 The FORMAT-4 console table - adaptable for every requirement
Customised as required, the working area can be equipped with 6, 8 or 10 consoles. Choose between 3 tried and tested console systems with different levels of automisation, ensuring that you have the perfect setup for differing workpiece sizes and designs.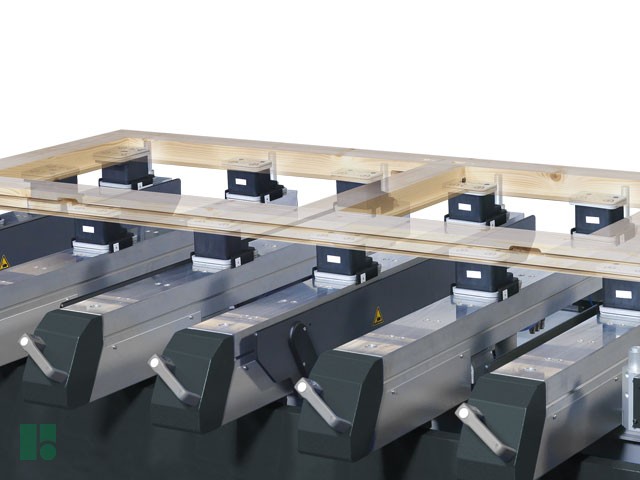 Workpiece fence for veneered surfaces
Additional to the workpiece cylinder stops; separate stops are available to assist in the processing of veneered surfaces with an overhang of veneer or laminate.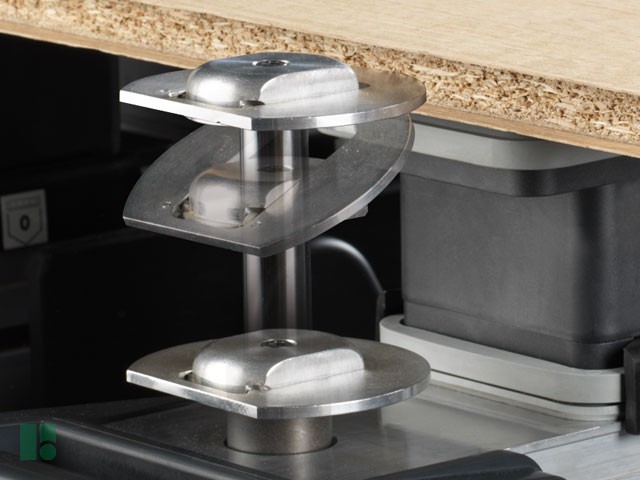 BRAND: FELDER - FORMAT4
MODEL: profit H500 - 16.38
check_box
EC legislation:
Compliant
Request infos
FELDER – FORMAT4 profit H500 – 16.38