reorder
Panel height:
10 - 45 mm
view_agenda
Roll edge thickness:
0,4 - 3 mm
view_agenda
Edge in stripes thickness:
5 mm
filter_list
Interchangeable glue tank
Description
Edgebander
FELDER G 330
With the G 330 Edgebander, Felder offers you a perfect, professional solution for small workshops with smaller investment options.
The Felder G 330 meets the challenge of the increasing quality demands in the "compact class". Precise edge gluing without the need for further manual finishing, is the most convincing element of the most recent Felder development. The G 330 sets new standards, with a total length of less than 2 metres and precise finishing aggregates for the perfect edge finish.
Highlights:
Modern edgebanding technology in less than 2 metres of length
Centralised control panel for a high level of operating comfort
Constant pressure from the 2 pressure rollers
"Quick-Set-System" for quick and precise adjustment to different edge band material
Pneumatically controlled guillotine cutters for precise end cuts
Teflon coated gluepot with 1.2 kg glue capacity
Quick change between flush, bevel and radius trimming
... Your decision for Felder, a risk-free decision
The right machine for every budget
Complete reliability in professional use
Tailor made machine solutions
High quality cast iron machine table and aggregates
Innovative detail solutions derived from 60 years of experience – already included in the standard configuration
First class manufacturing and finishing standards
Intuitive application concepts
Modern, distinct design
Quality and precision from Austria
Powerful and efficient
Complete package: Comprehensive service support
CE + GS dust certified
settings
Technical details
Effective working
Panel minimum width
70 mm
Details
Roll edge thickness
0,4 - 3 mm
Edge in stripes
check_circle
Edge in stripes thickness
5 mm
Interchangeable glue tank
check_circle
Glue type
Vinyl/Poliurethane
Edge trimming unit
Standard
Rounding knives/shrub shears unit
Manual
Joint scraping unit (Optional)
Manual
*Shown values may vary depending on the configuration of the machine.
get_app Download Technical Sheet
Teflon-coated changeable gluepot
The Teflon-coated changeable gluepot can be quickly and easily replaced and holds 1.2 kg of adhesive granulate. After a heating time of approx. 12 minutes, the machine is ready for use. The micro adjustable glue roller ensures the correct dosage of the hot-melt adhesive and allows perfect matching to different edge materials.
The quick and easy change to other adhesive colours and the use of PUR glue guarantee productive procedures and excellent edges for all areas of application.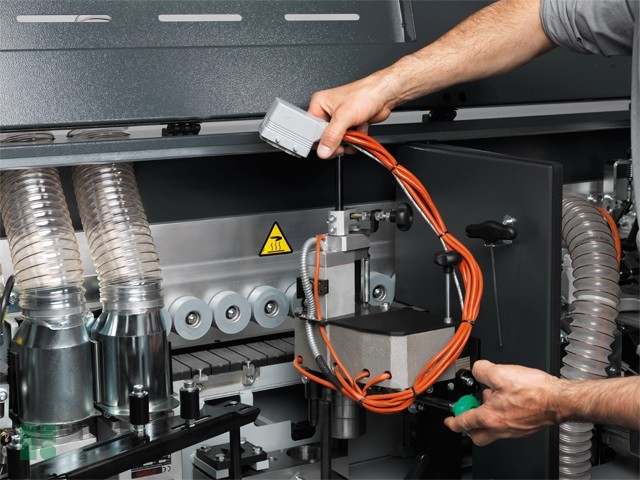 Space saver
The new Felder space saver! Professional edgebander requiring less than two metres when operational.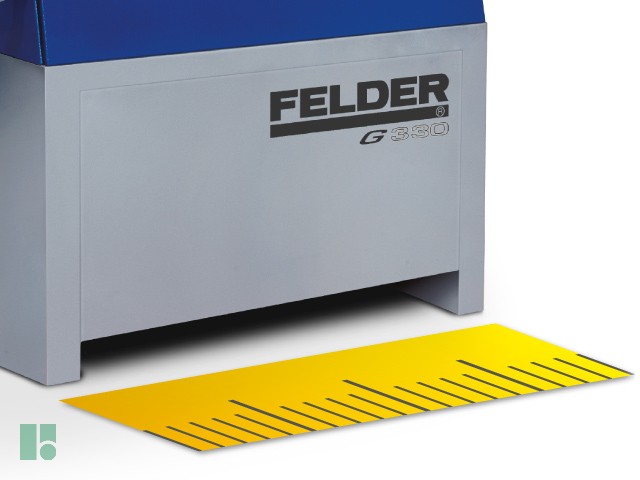 Operating panel with LCD display and keypad
The individual machine units are switched on and off from the control panel.


Glue temperature settings


Automatic glue temperature decrease


Units can be selected and disengaged


Odometer for total metres of material used


Display of the maintenance intervals


Plain text error messages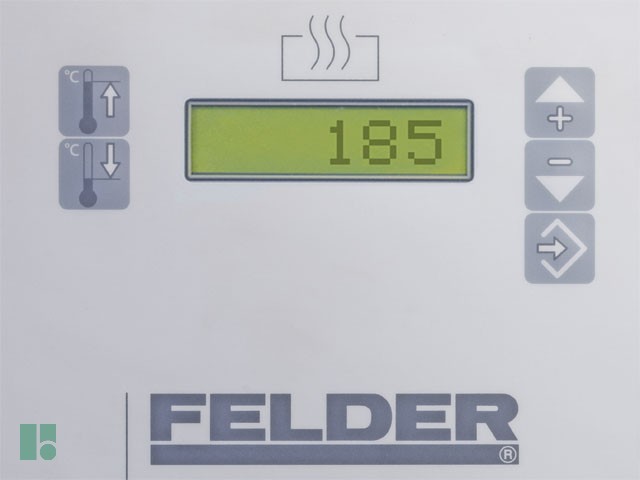 Upper spring-loaded pressure bar
The patented height adjustment of the upper pressure bar is carried out using a handle. The value at which it needs to be set can be read using the scale The feed height can be adjusted from 10–45 mm by means of a newly developed quick change adjustment.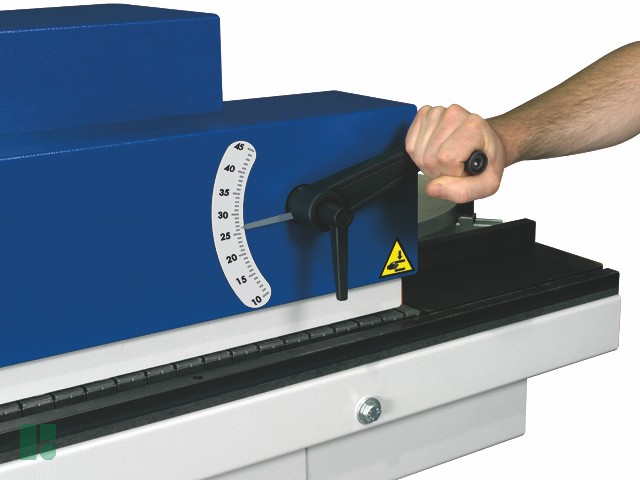 Pressure roller
The pressure roller unit consists of one large roller followed by a smaller one. The purpose of the unit is to improve the glue bond between the edge and the material. The unit is mechanically spring loaded and due to the "Quick" setup system, can be adjusted exactly to the required edge thickness. Due to the adjustable spring system, a perfect bond between the panel and edge is guarranteed.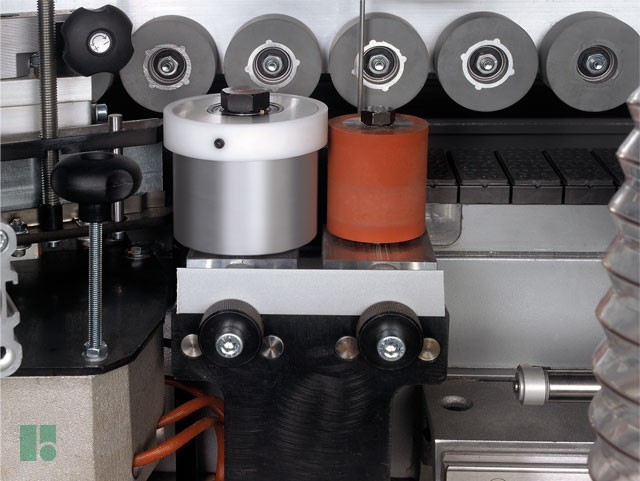 End trimming unit
High precision linear guides for perfect cutting results. The saw blades rotate at 9,000 rpm, guaranteeing perfect cutting results regardless of the type and thickness of the wood.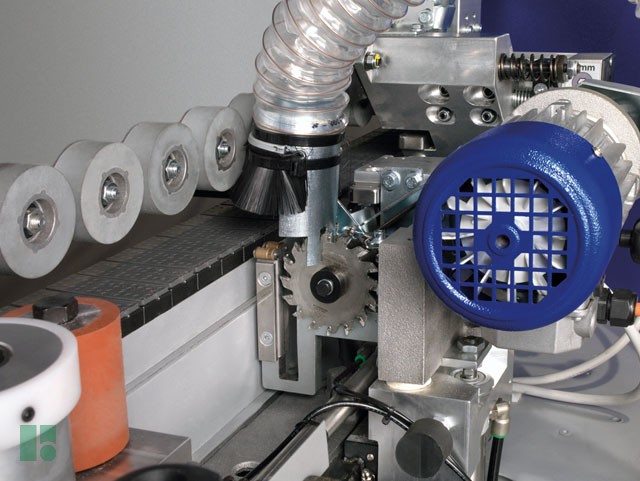 Multifunctional trimming unit
The biggest advantage of the new multi-functional combination unit is the amount of space it saves in the machine. Adjustment of the settings from flush to bevelled finish for thin edges and also radius trimming is quick and easy 2 mm radius tooling is included as standard.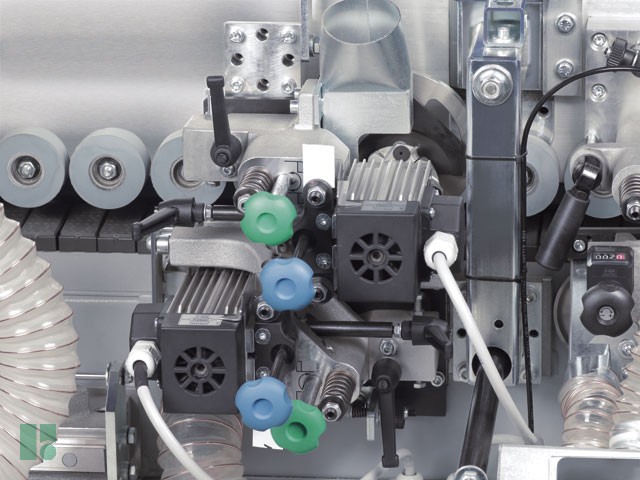 Radius scraping unit (Optional)
Fine tunes the edge radius and removes excess glue.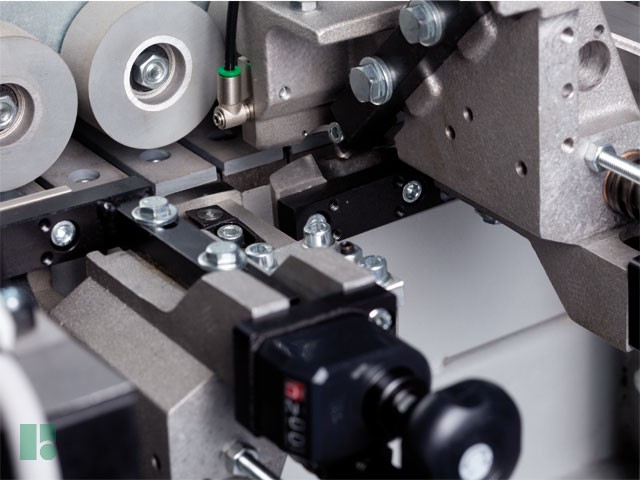 Glue scraping unit (Optional)
This unit removes any remaining glue residue from the panel, leaving a perfect finish requiring no extra finishing.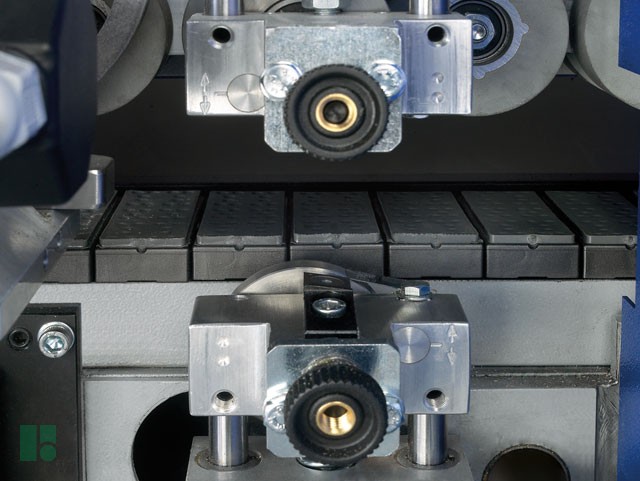 Buffing unit (Optional)
Super finish for ABS and PVC material. Optional installation of polishing solution spray applicator for the polishing heads.
Heavy duty chain feeder
Precise work-piece feeding with chain and drive rollers in an offset formation, leaving no scratches on the workpiece surface.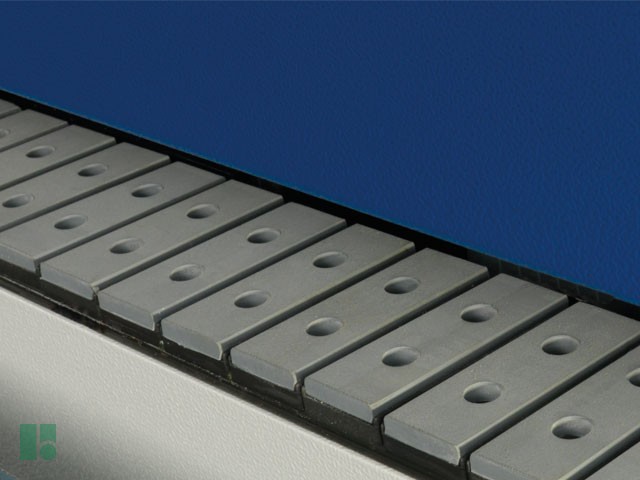 BRAND: FELDER
MODEL: G 330
check_box
EC legislation:
Compliant
Request infos
FELDER G 330