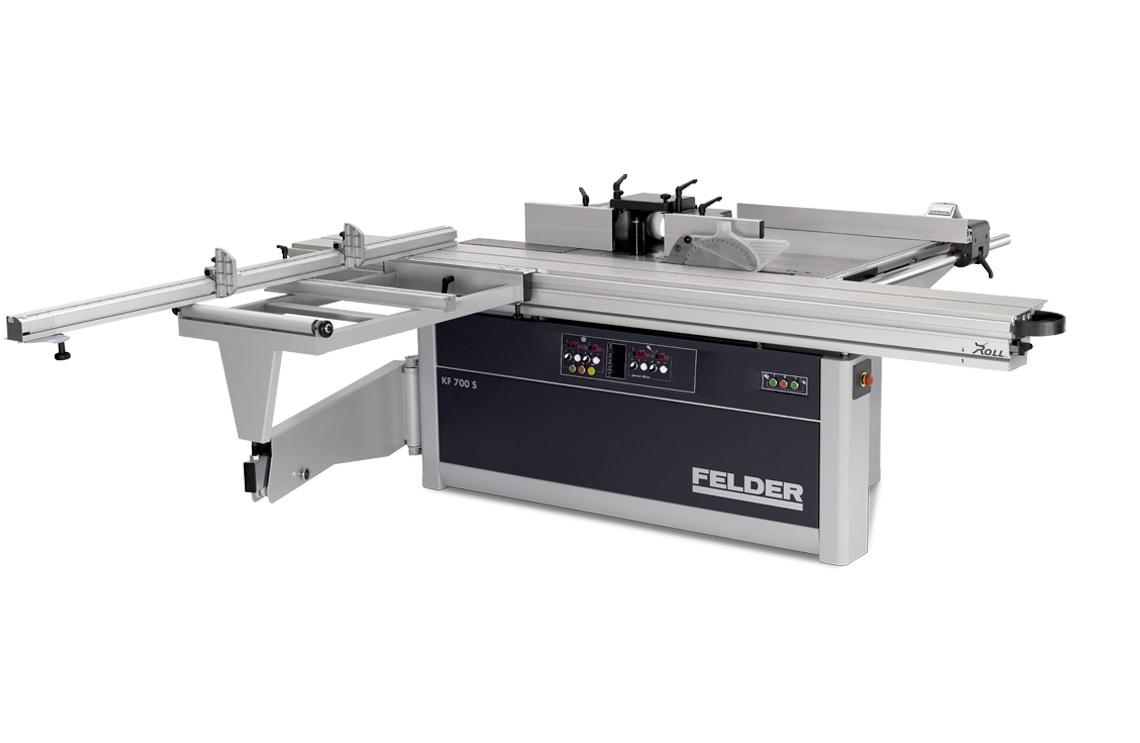 —
FELDER

KF 700 S Professional
Saw/Spindle moulder
Price on request
get_app Technical sheet
chat Request info
donut_large
Blade diameter:
315 mm
view_agenda
Cut heght:
104 mm
linear_scale
Wagon length:
3200 mm
graphic_eq
Parallel guidance cut wedth:
1250 mm
Description
Saw/Spindle moulder
FELDER KF 700 S Professional
Two professional machines in one combination
Panel saw and tilting spindle moulder – with the KF 700 saw-spindle moulder Felder has combined two top quality professional woodworking machines forming an unbeatable combination. Innovative detail solutions, tried and tested Felder technology and perfect components for perfect woodworking.
... Your decision for Felder, a risk-free decision
The right machine for every budget
Complete reliability in professional use
Tailor made machine solutions
High quality cast iron machine table and aggregates
Innovative detail solutions derived from 60 years of experience – already included in the standard configuration
First class manufacturing and finishing standards
Intuitive application concepts
Modern, distinct design
Quality and precision from Austria
Powerful and efficient
Complete package: Comprehensive service support
CE + GS dust certified
settings
Technical details
Circular blade system details
Scoring (Optional)
check_circle
Electric blade regulator (Optional)
check_circle
Digital parallel guidance
check_circle
Parallel guidance cut wedth
1250 mm
Adjustable rotation speed
check_circle
Spindle moulding machines system details
Tilting spindle
check_circle
Reversible rotation spindle
check_circle
Extensible frame
check_circle
Driver (Optional)
check_circle
*Shown values may vary depending on the configuration of the machine.
get_app Download Technical Sheet
Saw unit 104
The Felder saw unit "104" Manufactured entirely from cast iron, the new Felder "104" saw unit fulfils the highest demands of modern woodworking.


104 mm cutting height with a 315 mm saw blade diameter


Electronic height adjustment of the saw blade ("Power-Drive" K1)


Electrical height and angle adjustment of the saw unit with LED display ("Power-Drive" K2)


Precise height adjustment via precision linear guides


Optimal extraction with a completely enclosed saw aggregate


Large scale, double ball bearing saw arbour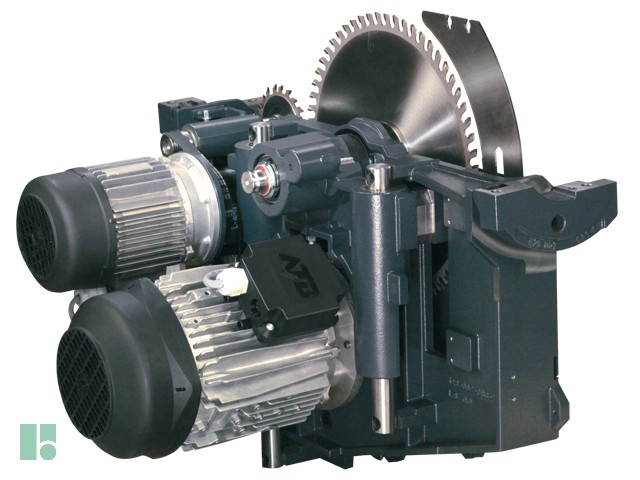 "Easy-Glide" 6 year guarantee!
The patented tilt segment "Easy-Glide" fulfills the highest requirements in businesses and industries. A precise, guided, doublesided support, guarantees maximum load bearing and tolerance free tilting and is absolutely maintenance free. A special, highly durable synthetic material situated in the guide of the tilting segment ensures extremely smooth movement and long-lasting precision. The tilting guide system, a synthetic material tried and tested in aerospace and lock construction, works without the requirement of lubrication and is totally resistant to dust. With a 6 year factory guarantee this Felder component offers reliabilty for many years to come.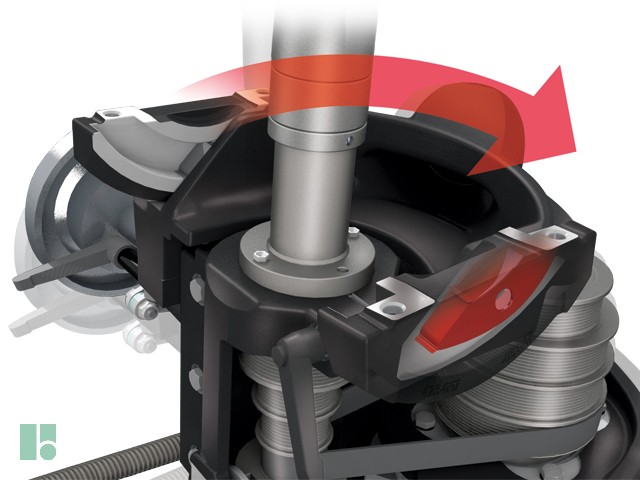 Circular saw shaft
The electronically balanced saw arbor with dual bearing seat system is powered via a Poly-V belt. This combination results in an almost perfect ­transmission of power to the saw blade.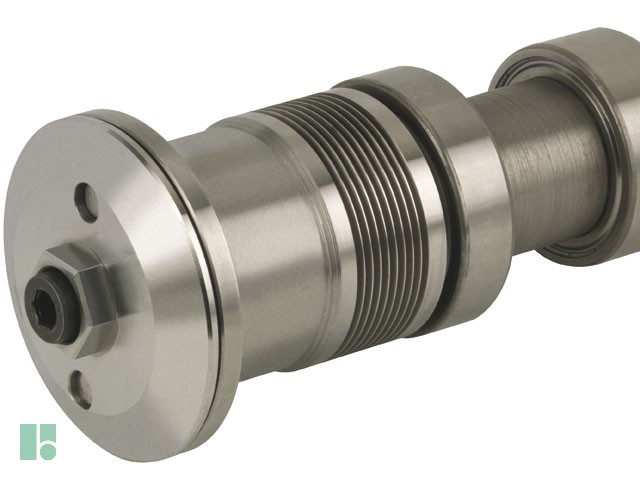 To use a grooving cutter "Dado cutter" (Optional)
The Felder 700 Series saw unit is fully compatible with dado tooling. Thanks to removable flanges and table insert, the Felder designed, fully adjustable dado cutters can be used.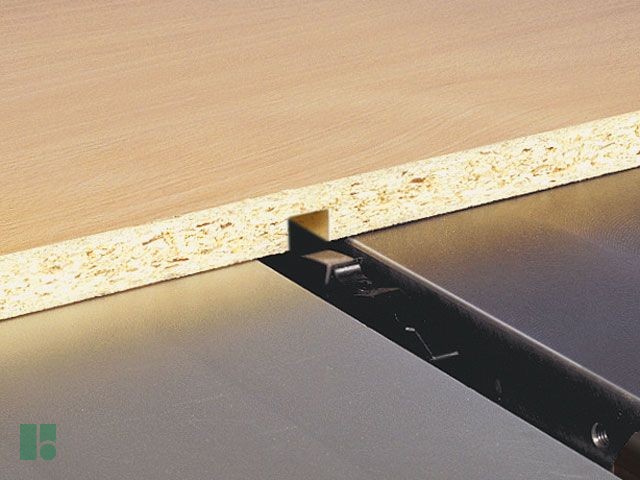 Power-Drive - Moulder spindle (Optional)
The fully electrical "Power-Drive" control offers exact adjustment and repeat accuracy. The saw blade height and the angle settings can be adjusted at the turn of a knob, the fine setting adjustments are carried out to tenth of a millimetre accuracy using a push button. Red LED digits display the current position in real time on the control panel.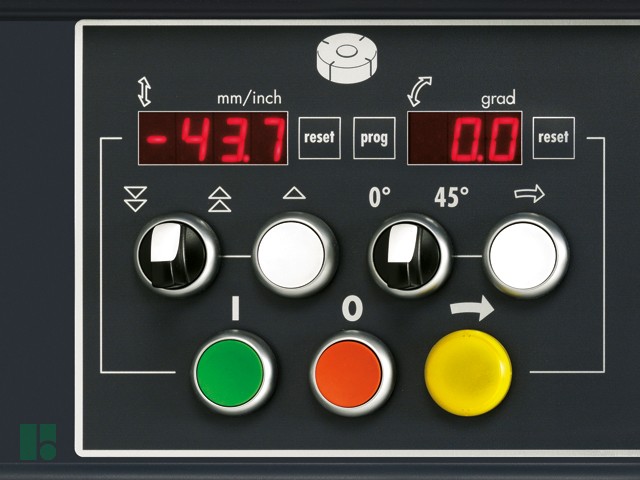 Scoring unit (Optional)
For chip free cutting of laminated panels. The saw blade can be mechanically or electrically driven and can be set in both height and lateral position.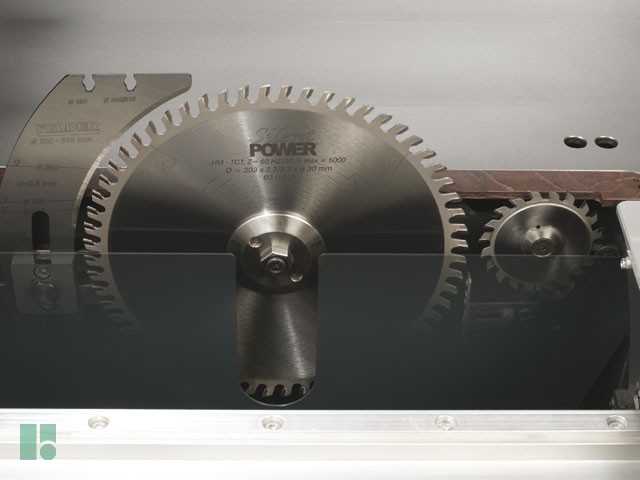 Spindle fence "230"
The fence allows tooling of a maximum diameter of 230 mm to be used. The fine adjustment can be set between -5 to +25 mm. The extraction of the chips is done via the integrated extraction connection.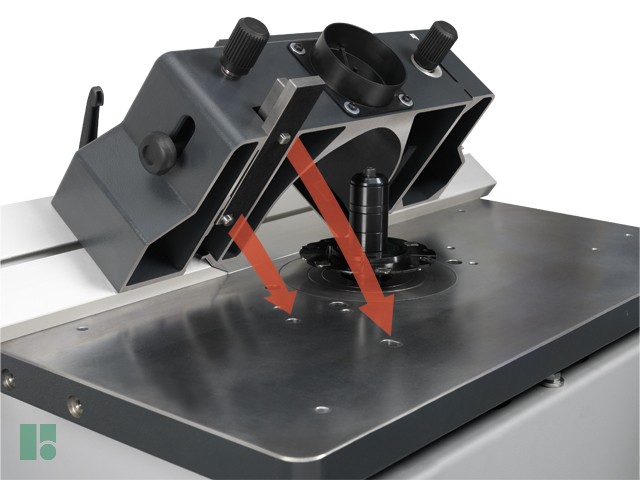 Precision guiding system
The continuously developed linear guiding system from Felder has been astounding woodworkers since 1990. The high quality­ ­format sliding table guiding ­technology "X-Roll" comes with a 10 year Felder guarantee and offers amazing operating smoothness and is completely maintenance free. The 'x' design of the position of the roller bearings ensures that they move smoothly along hardened guides.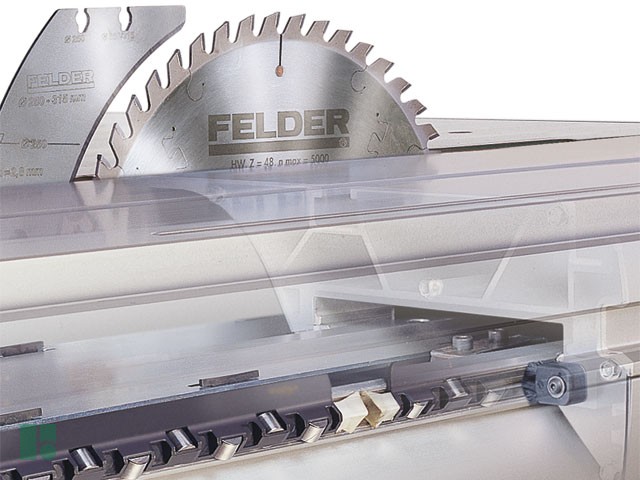 Remote ON switch on sliding table (Optional)
For a convenient option we can equip your Felder 700 Series machine with start buttons for the main and scoring blades.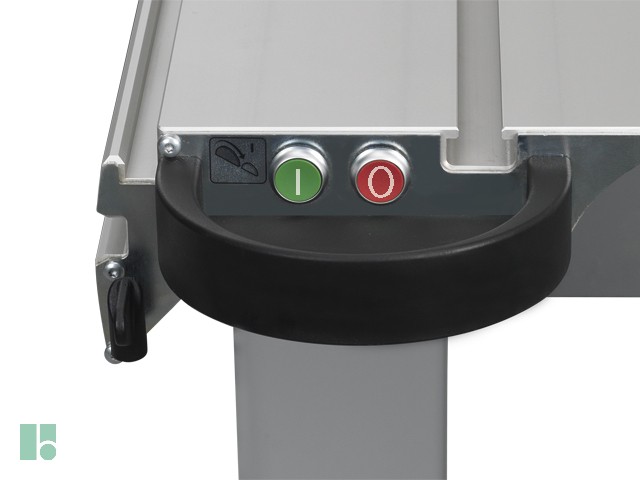 The Felder overhead saw guard
Highest operating safety and maximum flexibility when processing large dimensioned workpieces: the Felder overhead saw guard can be swung away easily and is always there where it is required.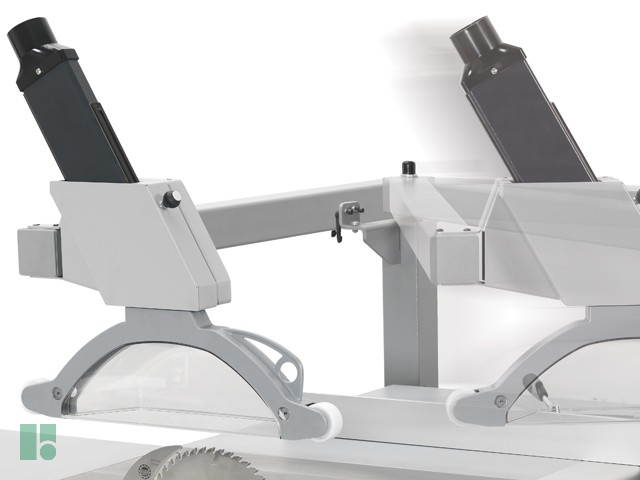 Outrigger
The solid outrigger makes it possible to process large and heavy workpieces. High precision and operating smoothness is guaranteed by 8 bearing guide rollers situated in the outrigger telescopic arm. You can optionally equip your Felder saw with a 1300 Felder outrigger or the 1500 premium version Optional roller for the outrigger to facilitate the loading of workpieces.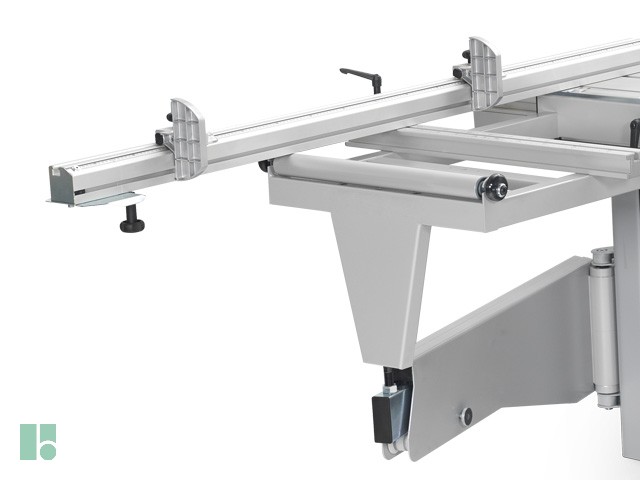 Precision mitre index system (Optional)
No reading errors due to scales and vernier. No time-wasting with arduous approximations of angle values. The advantage of the Felder degree index is that the stop is set and fixed without losing time or making reading errors. Highly precise index positions allow for the accurate production of polygons, e.g. 5.625º (32 sided), 11.25º (16 sided), 22.5º (8 sided). In addition, index positions at 15º, 20º, 25º, 30º, 35º, 40º and 45º can be used when working in slide to cut or push to cut mode. Every index position is equipped with a length compensator. The highly precise Felder degree index system is adjusted at the factory. Every index position also has individual fine ­adjustment. This cost effective index system integrates well into the machine design and will increase your productivity.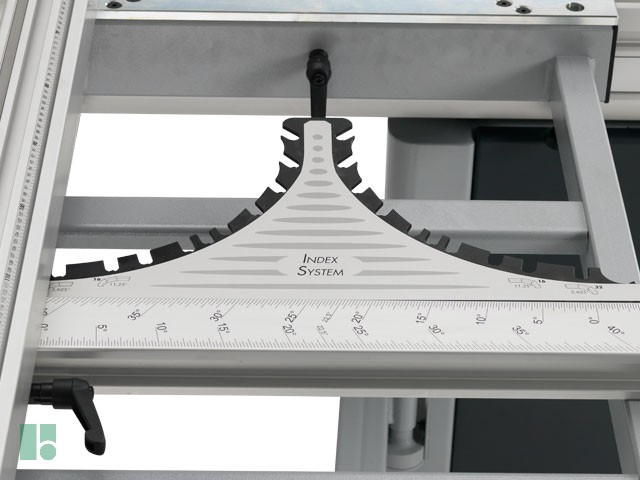 Crosscut fence stops (Optional)
On request: the digital crosscut stop. For repeatable accuracy to 0,1 mm with large LED display.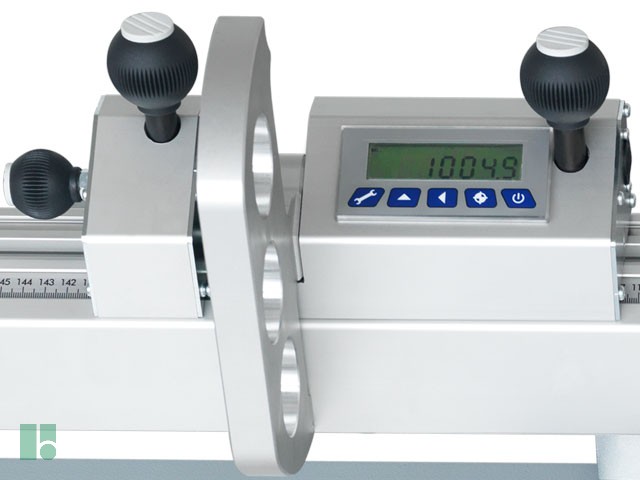 The rip fence
The rip capacity comes at 800 mm or optional 1250 mm. The rip fence almost hovers over the table. The single handed quick clamping and fine adjusment systems ensure quick and accurate setting of the rip fence. The easy to read rip scale is perfectly integrated into the saw table. The aluminium rip fence plate can be moved backwards to optimise the feed of workpieces. When working with narrow and thin cuts of wood or with the saw blade tilted, it can be inverted and used in the lying position.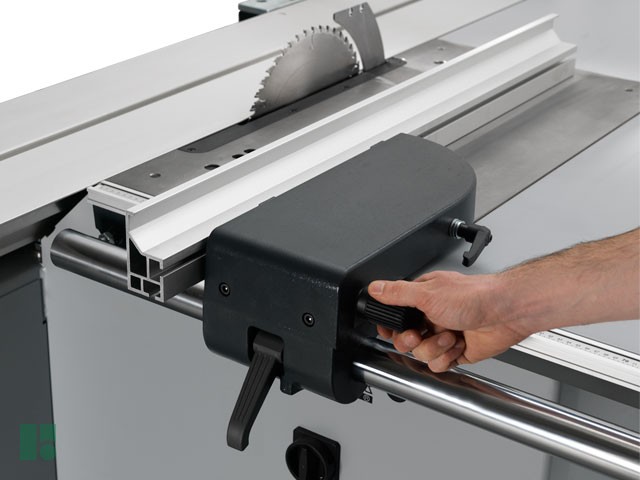 Electronic digital display (Optional)
The rip fence can be fitted with an electronic digital display. The perfect integration of the electronic unit allows you to turn the display around 90°, so the values can be clearly seen and read from the operating area. Additional functions such as the input of incremental measurements make your daily working life easier.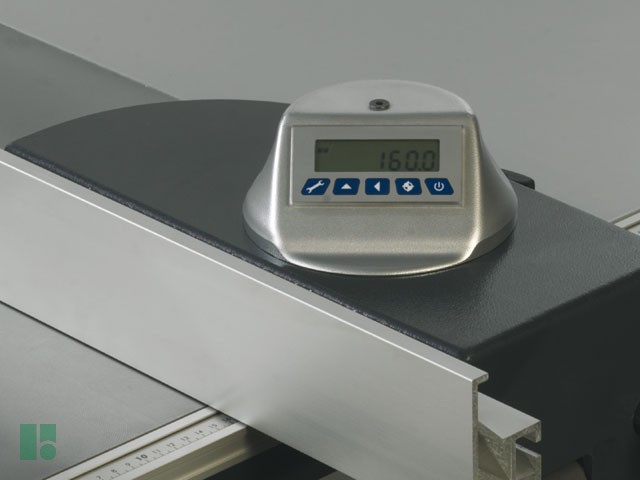 Table extension (Optional)
Increase your working surface area as needed – Felder System Table Extensions Since their invention in 1969, Felder system table extensions have become a very common and useful choice for many Felder owners. Within seconds and without the use of tools, you are able to increase the working surface of your Felder.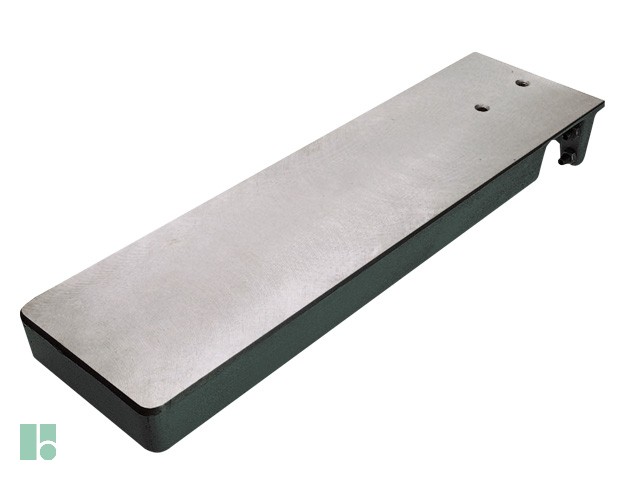 Outrigger table with floor support roller (Optional)
For rip and formatting cuts of large panel material. Floor guides are height adjustable, 4,5 m in length, consists of 3 sections.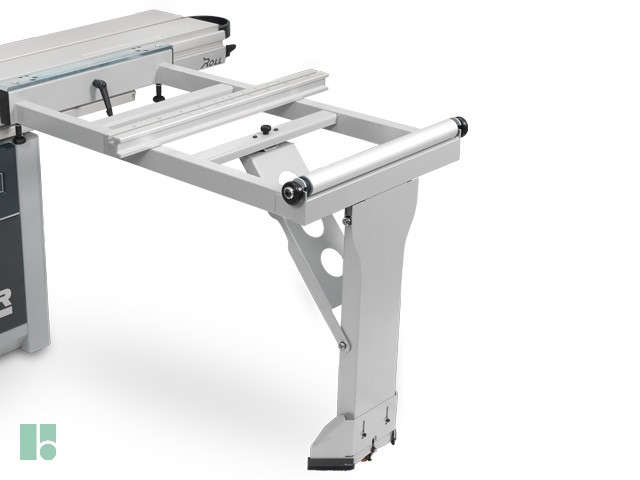 Spindle moulder unit 700
The Felder 700 Series spindle aggregate sets standards that are unparalleled.


115 mm useable spindle height above the table (140/160 mm)


Quick-change system of the moulder spindle


Change the speed simply from the front of the machine


Collet chuck spindle for router tools with a speed of 15000 rpm


Electrical height adjustment with digital LED display


Electrical angle adjustment with digital LED display


4 operating speeds (3500, 6500, 8000, 10000 rpm)


Rearward tilt 0° to 45°


Precise, double sided guide support


Dovetail guidance system of the height adjustment


Excellent vibration absorption from heavy cast iron unit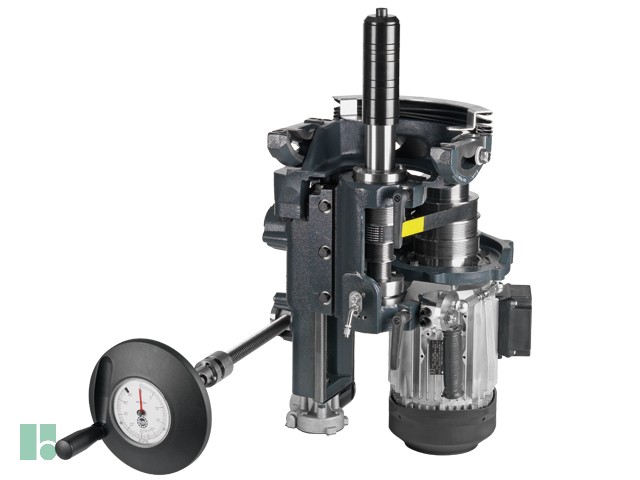 Tenons and slots (Optional)
Large dimensioned and designed for maximum load bearing capacity, the aluminium format sliding table "hovers" on the "X-Roll", a highly developed guiding technology. The X shape ("X-Roll") design of the rollers distributes the load optimally on all sides. The linear surface of the steel rollers running on the hardened and ground guiding surface guarantees unbeatable precision and smoothness. "X-Roll" will guarantee you the quality and precision that you expect from your new tilting spindle moulder. Another reason to choose Felder: 10 year factory guarantee to underline the reliability of "X-Roll".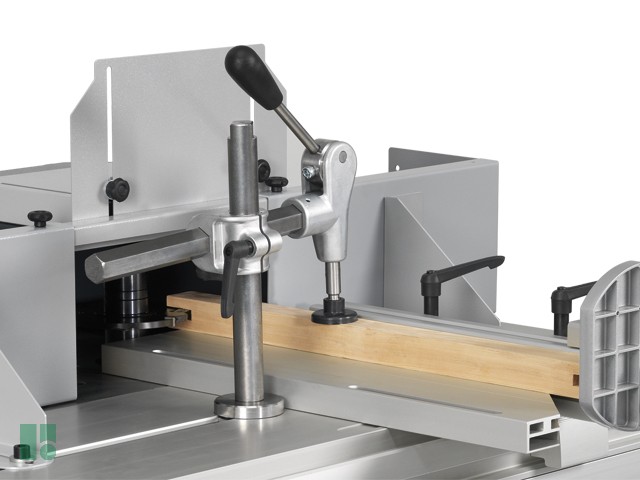 "Power-Drive" - Saw blade (Optional)
Similarly, the saw blade height and angle settings can be set to an accuracy of a tenth of a millimetre. For fine tuning there is also a push button and a clear LED display screen to show you the actual current value.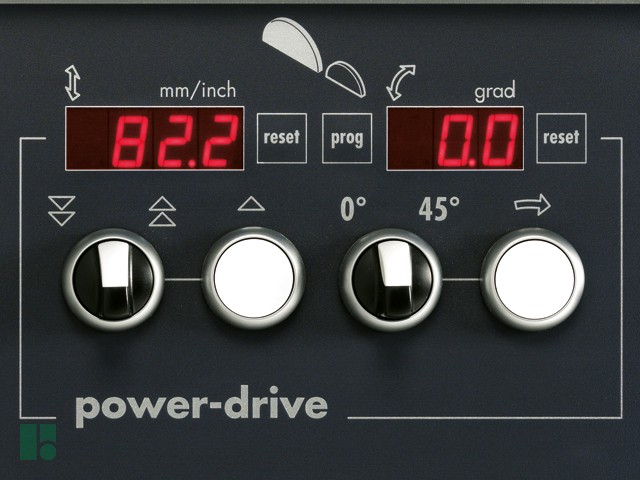 Moulder spindle tilting from 90°-45°
Your Felder spindle tilts ­"rearward" for operational comfort and the additional following reasons:


safety, as there is no pinch point


suitable for any workpiece size


problem-free power feeder application


impeccable machined surface


optimal chip removal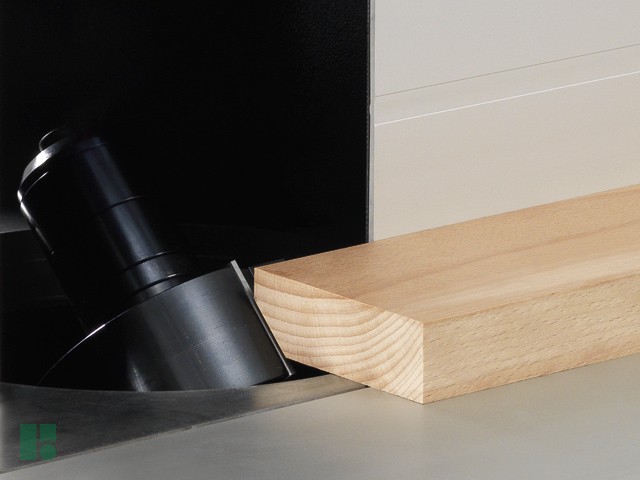 Quick change spindle system
Advantages of the Felder spindle quick change system:


quick, easy change between different types of spindles


ability to use 30, 32, 35, 40, 50 mm and 1¼" diameter spindles


use of the Felder high speed router spindle for router bits or high speed tools at 15,000 rpm.


automatic repeatable setting for series production work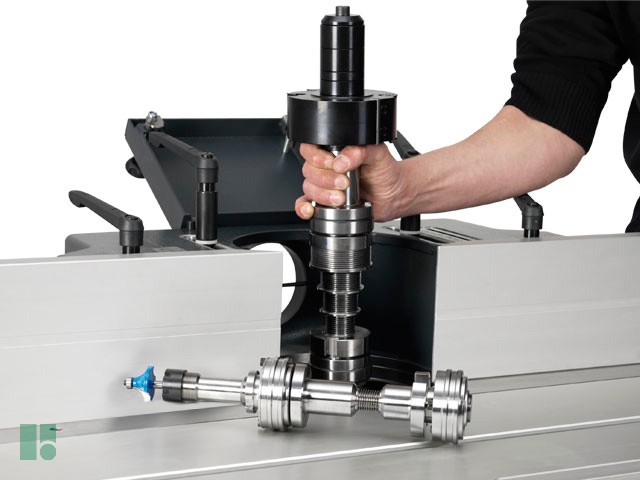 Table opening: 230 mm
The large table opening allows for maximum operator safety. For large dimension tooling, as used for tenoning and panel raising, the cutterblock can be conveniently positioned below the table.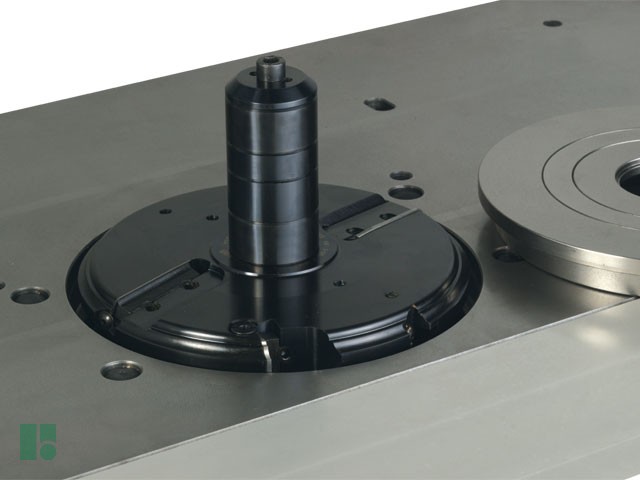 Safety bar guides (Optional)
The safety bar guides are great for end-grain work (optional).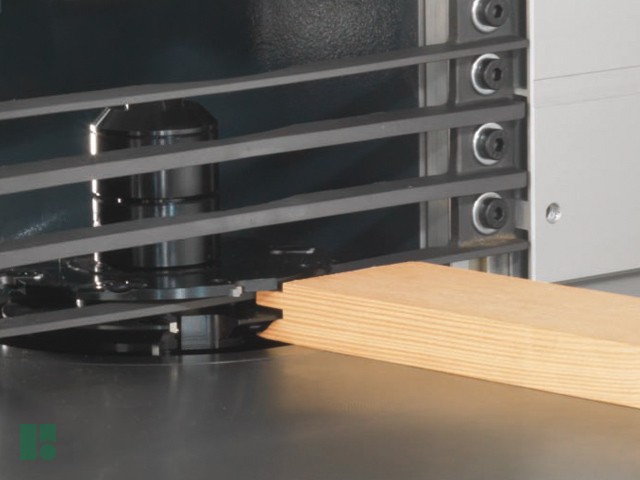 Power feeder (Optional)
The use of a power feeder ensures that standard work when moulding can be carried out cleanly and precisely.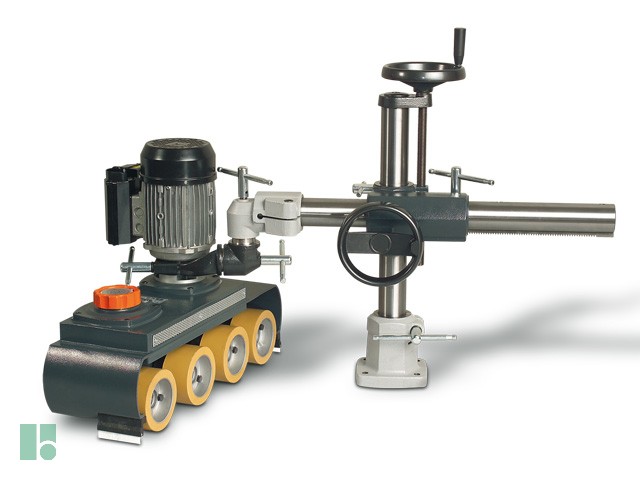 Tilting bracket (Optional)
The Felder device for tilting the feeder away means the power feeder always remains on the machine and can be used at any time with no difficulties.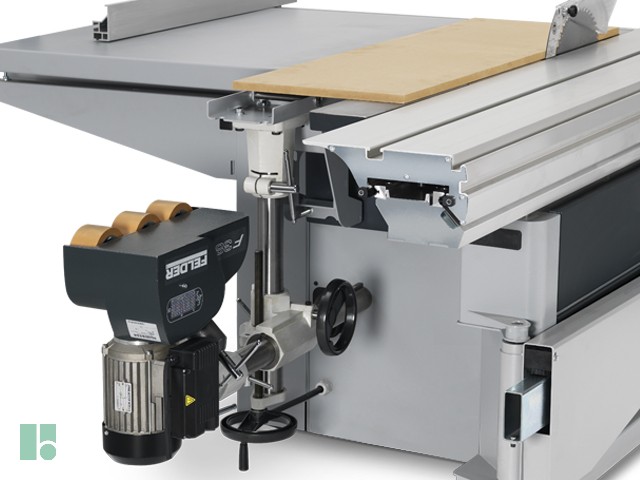 Pneumatic workpiece holder (Optional)


Easy clamping of workpieces with maximum flexibility, can be used on all panel saws and spindle moulders that have a sliding table


Easy set up due to magnetic fittings


Safety cylinder ensures maximum working safety


Pressure bar function is possible with every sliding table length


Locking height 95 mm


Clamping force approx. 300 kg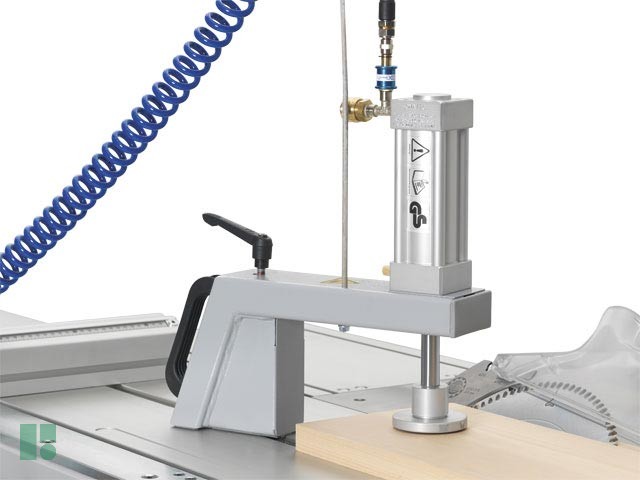 EGL 1350 (Optional)
OUTSTANDING! The patented double mitre gauge from Felder allows for mitre cuts on pieces of differing widths and at any angle. Really easy to use: simply type in the desired angle as well as the widths of your workpieces on the keyboard. Immediately, you will receive the settings and can set the electronic double mitre gauge accordingly. The fence stop on the fence can be adjusted up to 1350 mm with the scale. Regardless of the angles set, the length compensating vernier scale allows you to compensate for the workpiece length.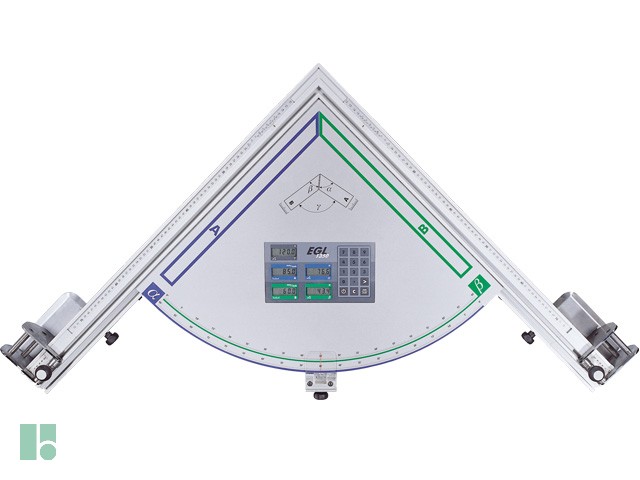 Related machineries
HAMMER B3 winner
Tenoning / Squaring machines
Cutting and moulding for the discerning woodworker!
With the B3 winner you, as a discerning woodworker, are investing in a combined panel saw and spindle moulder that is in a class of its own. The smooth action of the generously sized format ­sliding table will impress you even before you make the first cut. The panel saw and spindle moulder units have been optimised with reg...
swap_horiz
Discover more open_in_new
BRAND: FELDER
MODEL: KF 700 S Professional
check_box
EC legislation:
Compliant
Request infos
FELDER KF 700 S Professional