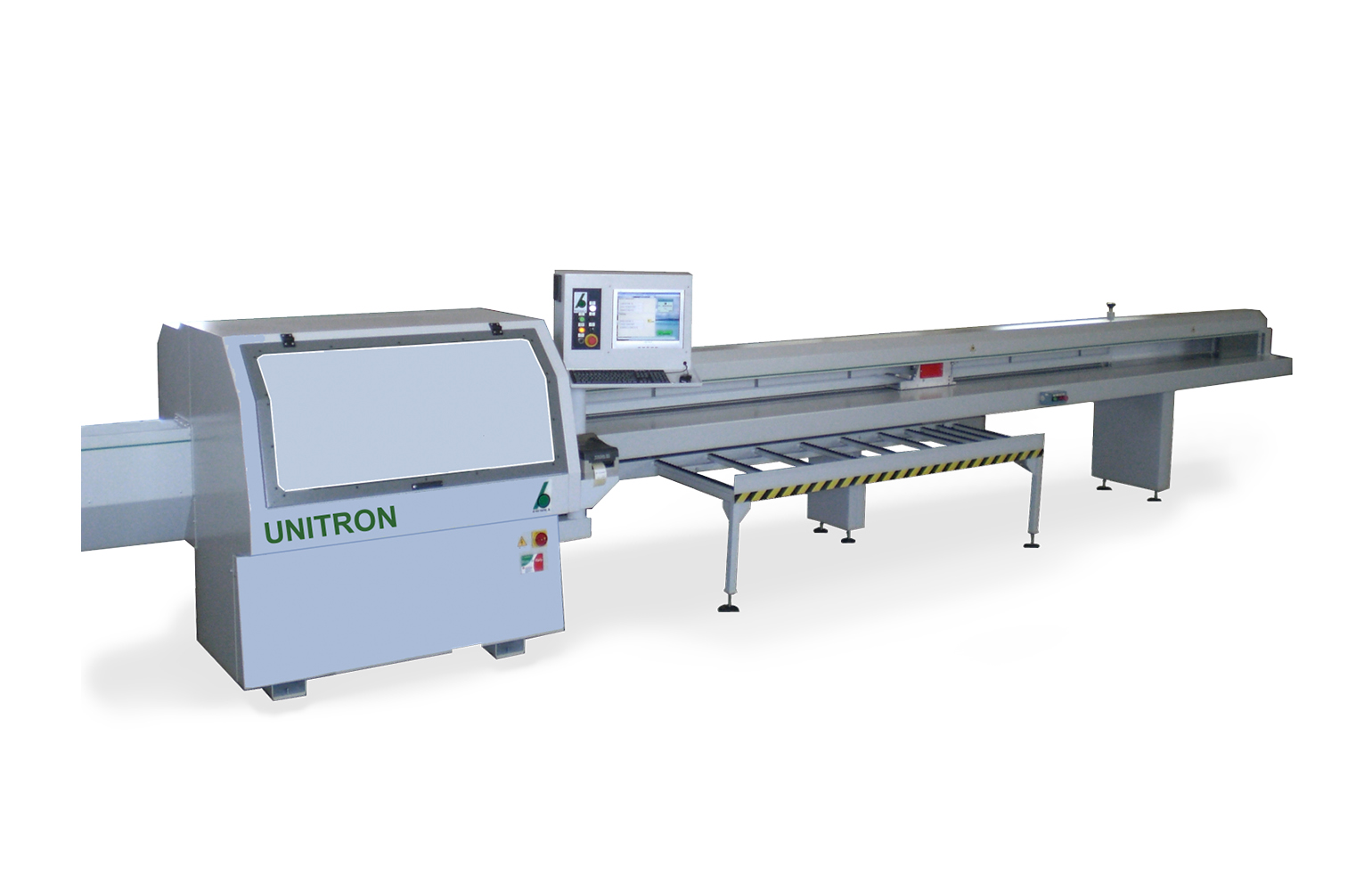 linear_scale
Effective length:
6000 mm
donut_large
Blade diameter:
350 mm
format_align_left
Optimizer
Description
Cutting-off, defecting, optimising machine for wooden bars
BAUSOLA UNITRON
Automatic cutting-off cycle.
Possibilità of selecting many typologies in order to optimise (.min waste, max length...).

Equipped with:
Vertical louder
Defect reading and self measurement of piece length
Upper blade
Returning of cut-off pieces to the operator with storage under the loader top
Touch screen monitor with dedicated software
Possibility of loading distinct for office ink-jet print or label marker


Technical specifications:
Down 3-speed blade for cutting aluminum,louvers of shutters
Blade Ø 350/400 mm
Maximum section cutting 150x100 mm
Wood floor support 6000 mm
Automatic loader for louvers maximum length 5000 mm
N. 1 suction duct Ø 60 mm
N. 1 blade motor 3 kW (hp 4)
N. 1 Brushlless motor for clampe 750 w
Down 3-speed blade for cutting aluminum
Pushing system with pneumatic nipper and back scraps ejector with Brushless motor
Reading with the defects observed bt optical fluorescent crayons
System for back offload of luvers, styles or treansom scraps
Return mat for pieces to operator and cutted storage under the support plane of wooden bars
Monitor touch screen with PLC exit, parallel for printer, net
Dedicated software
settings
Technical details
Details
Superior cut
check_circle
Defecting machine
check_circle
Software/C.N.
Optimising software
check_circle
*Shown values may vary depending on the configuration of the machine.
get_app Download Technical Sheet
Pushing system with pneumatic nipper and back scraps ejector with brushless motor
The feeding of the pieces inside the cutting unit takes place by means of a suitable pneumatic gripper, controlled by a brushless motor which allows the automatic and controlled insertion of the piece to be cut.
 
The clamp is complete with automatic piece length reading and lens for detecting defects on wood (knots, resin pockets, etc.).
 
The electronic management of this device makes it possible to optimize the cutting sequences to the maximum reducing the production waste.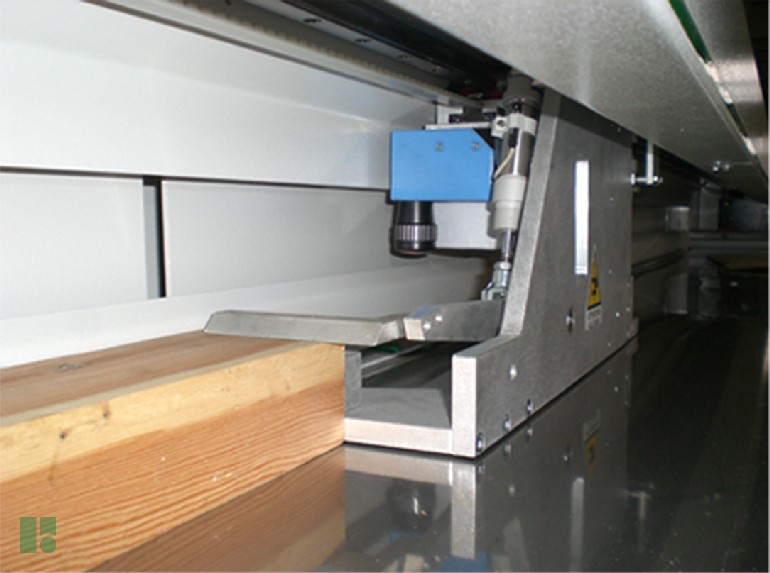 Blade group
Cutting unit equipped with a Ø 400 mm blade.
 
N. 3 cutting speeds programmable by numerical control, give the possibility to be able to cut, aluminum, uprights and slats of shutters.
 
Thanks to top-down cutting with guides and recirculating ball shoes, chipping is effectively reduced.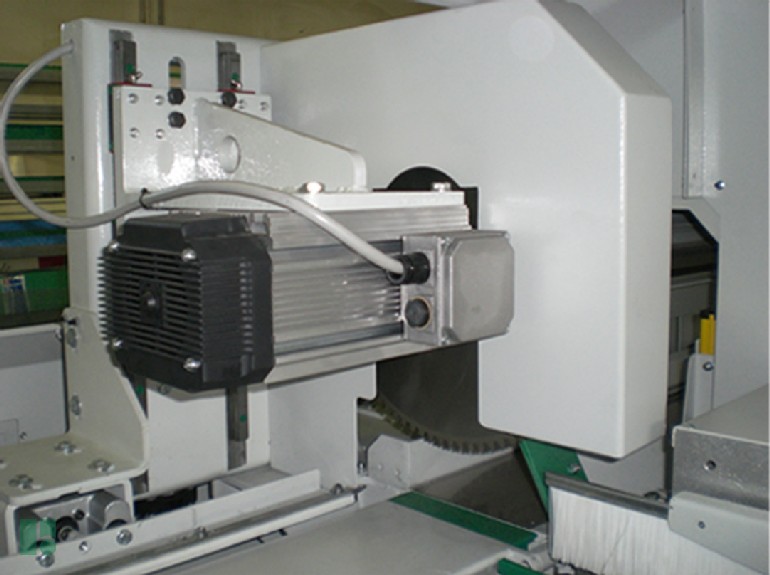 Automatic piece return
Inside the machine, there is the automatic piece return device, complete with pneumatic flap controlled by numeric control and rear conveyor belt for the return of truncated pieces to the storage area located in the loading area of the machine.
 
This device being incorporated inside the machine, does not affect the overall surface and avoids continuous movement by the operator, thus increasing productivity.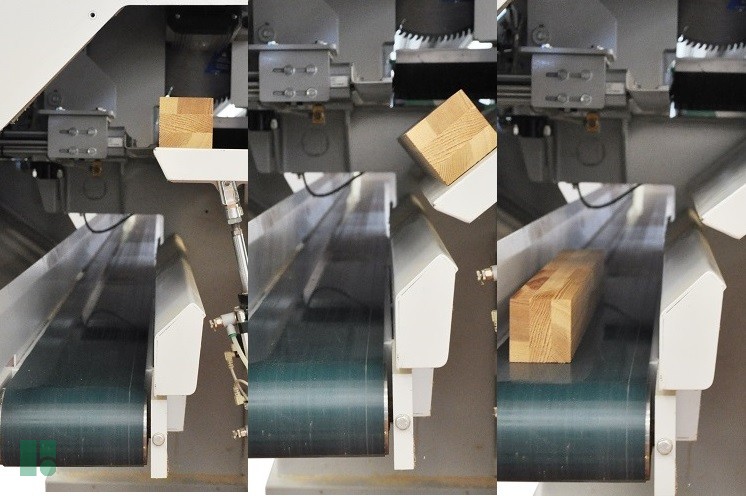 Cut off pieces warehouse
Below the loading area of the machine, there is the storage area for the pieces after being truncated to the desired size.
 
This simple but functional design trick reduces considerably the movements of the operator, allowing him to always be in an optimal position both for the loading and unloading functions.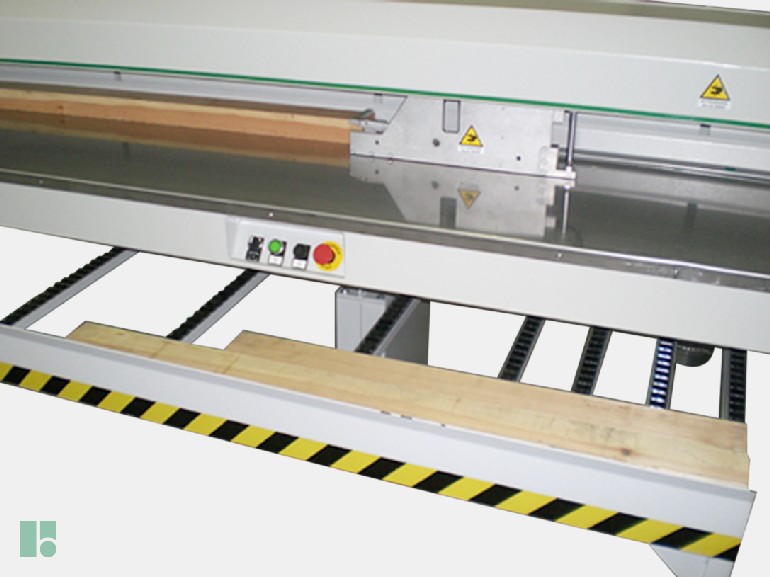 BRAND: BAUSOLA
MODEL: UNITRON
check_box
EC legislation:
Compliant
Request infos
BAUSOLA UNITRON