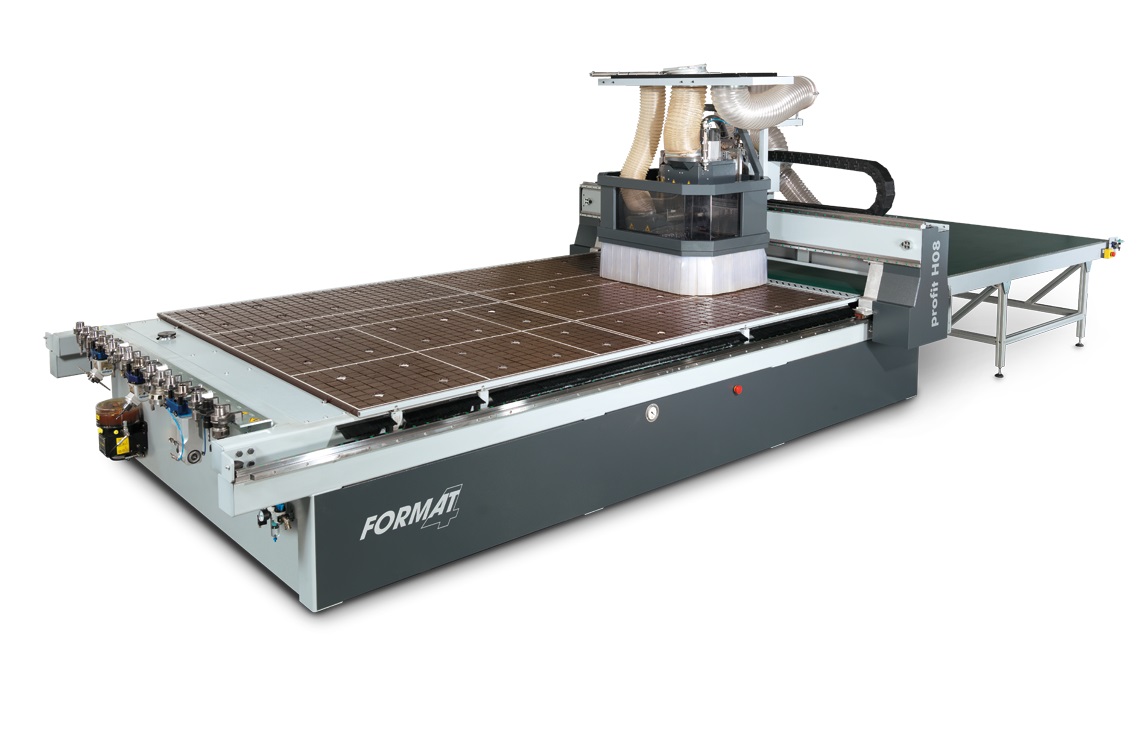 —
FELDER - FORMAT4

profit H08 - 21.31
Nesting CNC Machining Centre
Price on request
get_app Technical sheet
chat Request info
vertical_split
Controlled axes number:
3 + 1
filter_list
Arms number:
Plan nesting
Description
Nesting CNC Machining Centre
FELDER – FORMAT4 profit H08 – 21.31
CNC-NESTING – EFFICIENCY THROUGH AUTOMATION
Especially developed for universal application, this profitable CNC all-rounder convinces with top precision and impressive productivity when processing various different materials.

The profit H08 21.31 offers maximum flexibility and efficiency and already convinces in the basic equipment with 15 tool positions. For perfect, chip free results, the main spindle is equipped with a 12 kW motor. The main spindle is completed by a drilling head with 8 spindles.

Due to the smart zoning vacuum control, the vacuum zones can be switched to either fully automatic or manual control and activated depending on the workpiece size. Individual workpieces with variable sizes can also be positioned and processed in the zones 1 to 6.
... FORMAT-4 Premium machines for premium requirements
Tailor made financing solutions
Constantly high performance in industrial continuous operation
Customer specific optimised production solutions
Solid design with premium components
Many variations of specification packages with high-tech solutions
Complete engineering precision
Premium user comfort
Award winning design
Quality and precision from Austria
Uncompromised productivity
Perfect service package before, during and after the purchase
Compliance with CE regulations
Automation solutions
Networked workshop
Software and machines from a single supplier
settings
Technical details
Details
Controlled axes number
3 + 1
Mils connection drive motor
HSK 63F
Tools warehouse positions number
15
Vacuum pump
1 x 250 m3/h + 1 x 250 m3/h
*Shown values may vary depending on the configuration of the machine.
get_app Download Technical Sheet
Drilling head


DH 8 drilling head, with 8 vertical spindles


DH 12 drilling head, with 12 vertical spindles


DH 16 drilling head with 12 vertical and 4 horizontal spindles and 2 saw blades


Inverter driven motor up to 6,000 rpm The machine carries out vertical drilling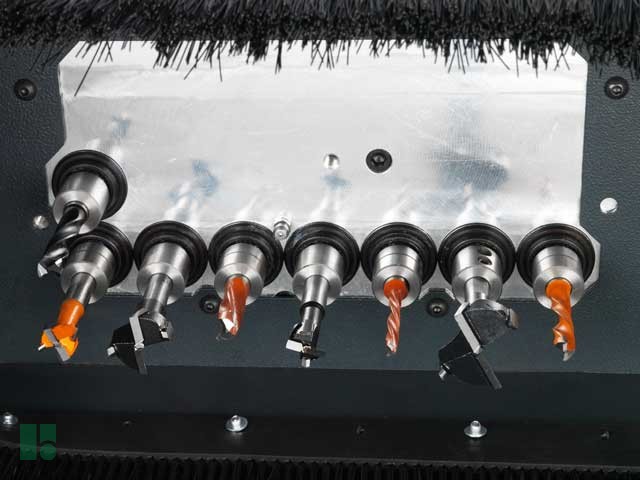 Linear tool changer
Generously designed tool change area for automatic operation with convenient storage option for additional units.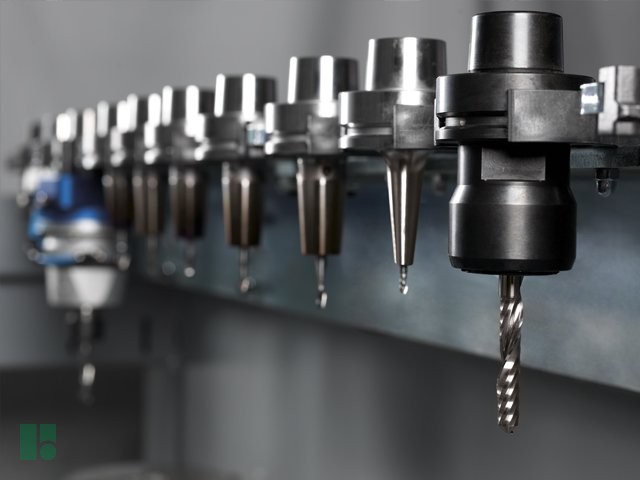 Perfect nesting with the FORMAT-4 matrix table
The matrix table with optimised grid geometry allows the full surface support of workpieces of all designs and sizes and guarantee their exact positioning. Reference fences mounted directly to the table offer additional support when optimising off-cuts and can be optionally monitored with collision prevention sensors. Working surface areas of 2500 mm x 1250 mm x 85 mm on the H08 13:25 and 3090 mm x 1530 mm x 85 mm on the 16:31, enable simple processing of all standard panel sizes.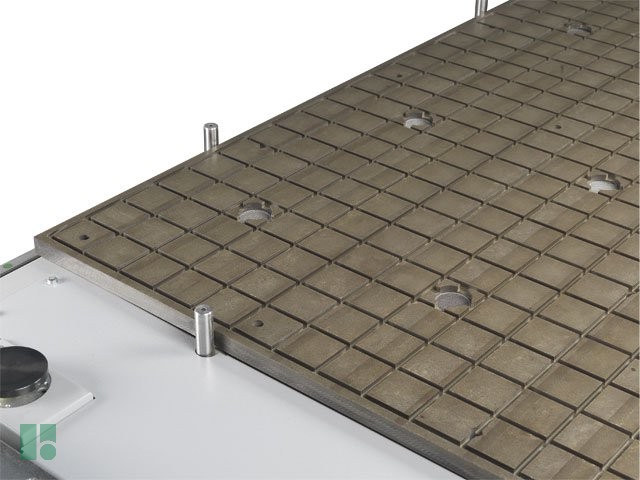 Hand-held terminal
Hand-held terminal with potentiometer and emergency stop.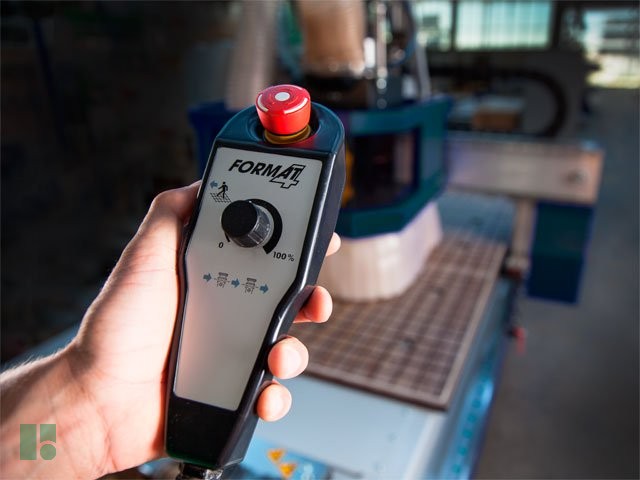 Smart Zoning
Smart Zoning offers the quick processing of several panel formats of 3090mm x 2100mm (7"x10"), 3090mm x 1530mm (5"x10"), 2500mm x 1250mm (4"x8"). It is possible to quickly change from one panel format to another.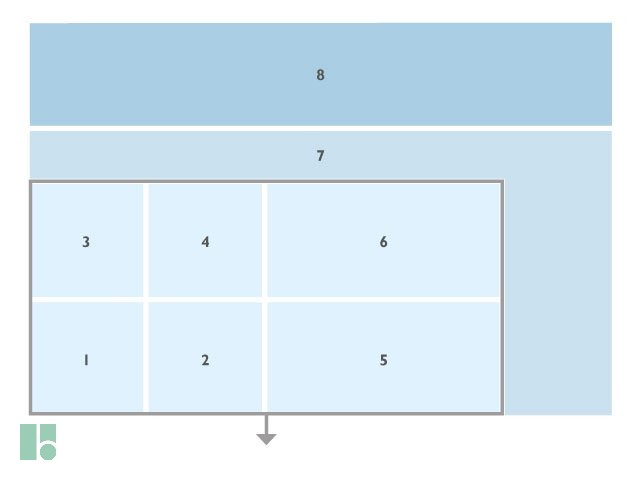 Aggregate interface with fixed position (Optional)
Optionally, an aggregate interface with fixed position is offered on the H08 21.31. This can be rotated 90° manually, so that it can process in all cutting directions.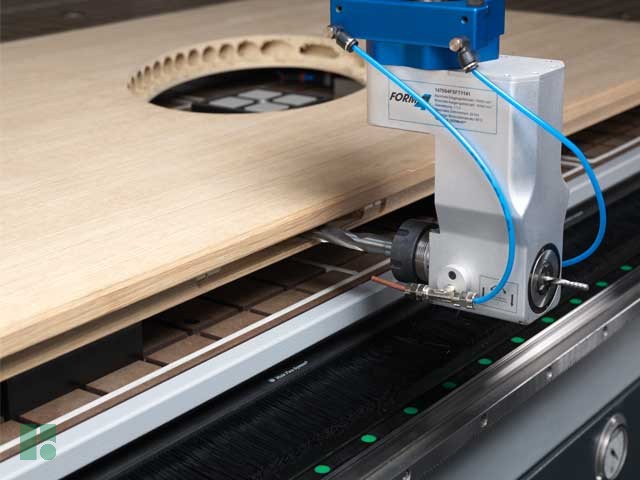 Barcode printer (Optional)
The label printer can be mounted to either the operating terminal of the unloading table or on the standard control terminal.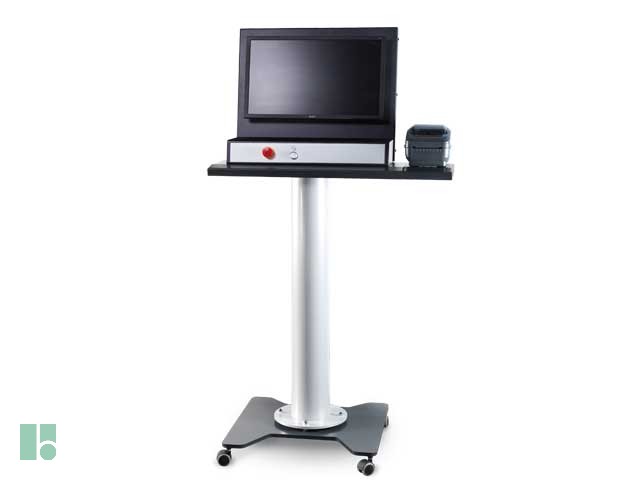 Vacuum system
Air-permeable materials and small-area parts can be fixed with maximum holding force. Up to 750 m³/h.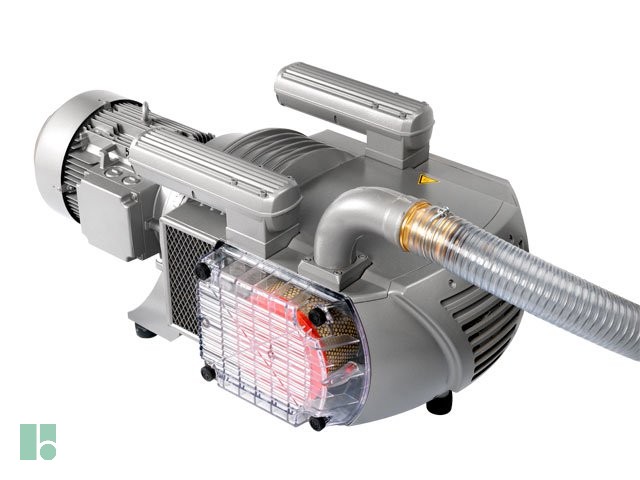 Quick and easy positioning of the vacuum pods, suitable for every workpiece size
The matrix design of the table, makes it easy to handle and position the pods. A distributor can also be used additionally, in order to be able to create a 2 circuit vacuum system.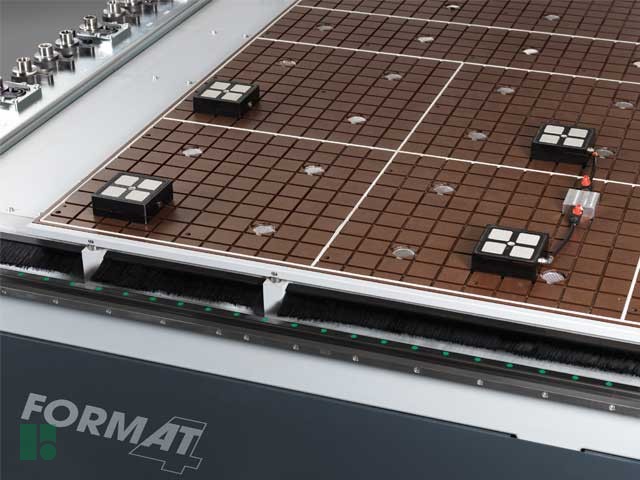 Portal construction with gantry drive: quick, precise and low maintenance
The dual side driven gantry guarantees maximum precision and repeatability of your processes. The rack and pinion drive in the X and Y direction ensures for maximum traverse speeds for the shortest processing times and tool changing times.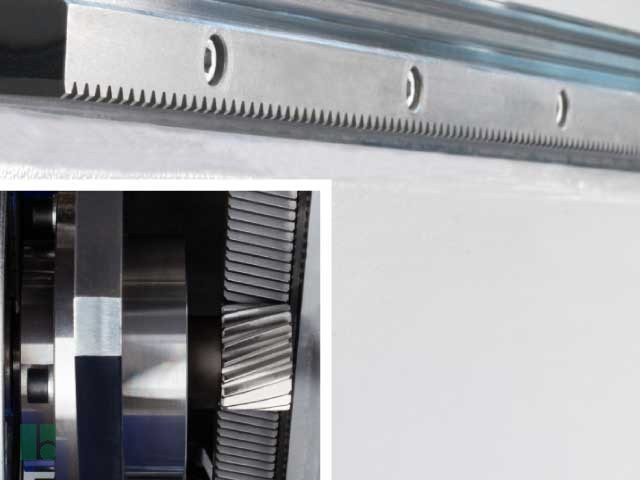 Three different sized working fields for individual requirements
FORMAT-4 profit H08 13.25 X= 2500 mm; Y= 1250 mm; Z= 85 mm
FORMAT-4 profit H08 16.31 X= 3090 mm; Y= 1530 mm; Z= 85 mm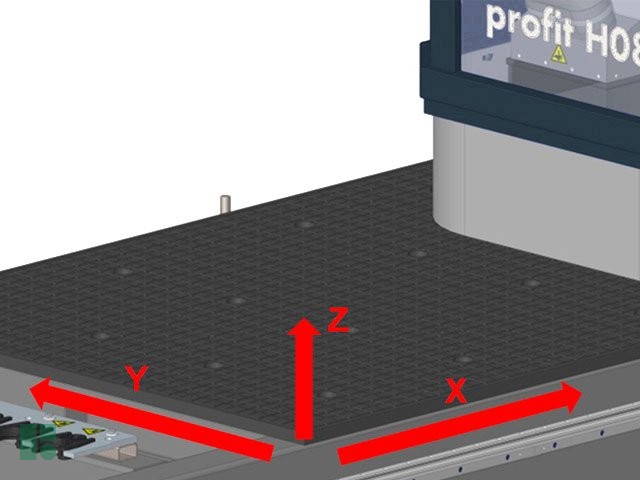 Equipment package "start" for perfect milling results
The high-performance milling spindle in the "start" package with ER 32 collet chuck, 10 kW motor and 24.000 rpm achieves first-class cutting results and maximum precision with maximum productivity.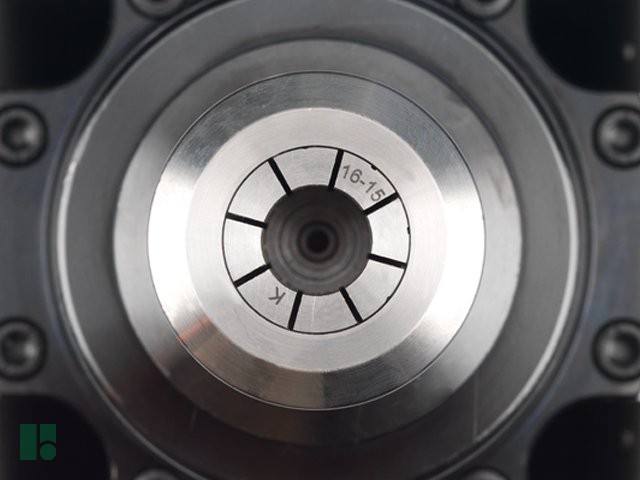 "Professional" equipment package for maximum productivity and complete flexibility
In the Professional package the high performance milling spindle has an HSK-F63 tool holder which together with a 10 kW motor power and 24,000 rpm, delivers perfect results even when processing difficult to work materials. Up to 15 tool positions ensure quick tool changing times and make the H08 even more profitable.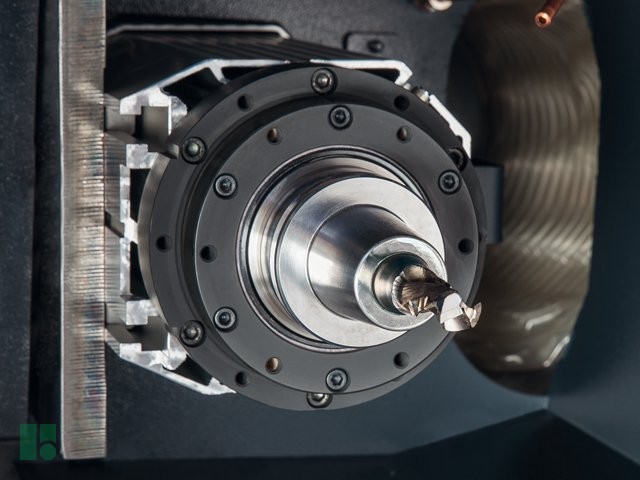 Automatic measuring system of the tool length
Setting the parametres of your tools made easy: every tool length is stored in the tool database accurately to one hundredth of a millimetre.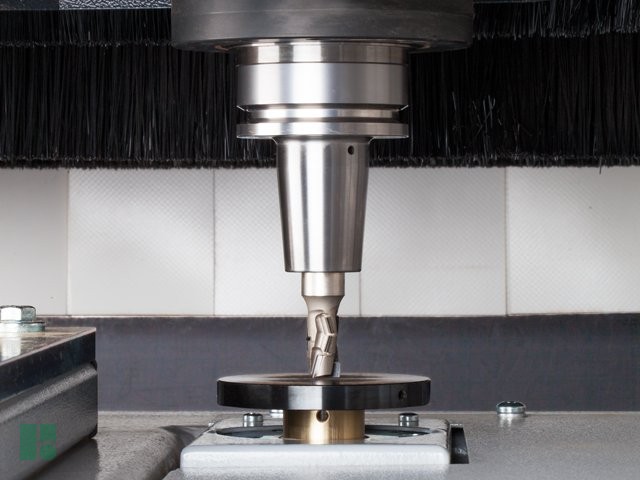 3D-Milling machine
Simplest 3-axis application with impressive results. There is no limit to your creativity.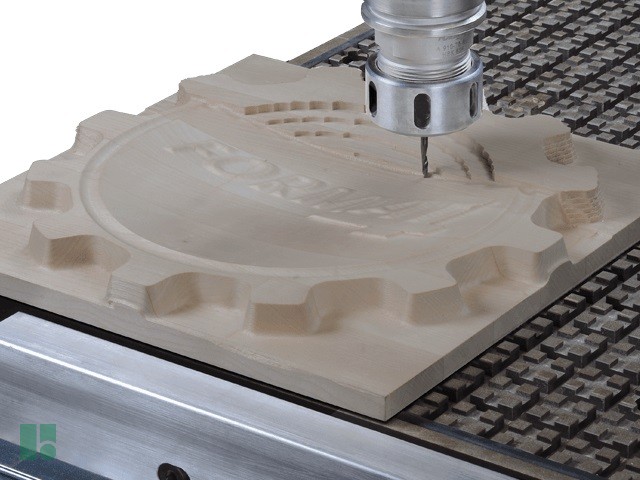 Automation with unloading unit including electromotive offloading pusher (Optional)
With the automatic unloading unit for finished workpieces you can take advantage of shorter processing cycles giving you higher productivity and greater yield.
Screw taps
Metric threads or fine threads. Simple programming - perfect results.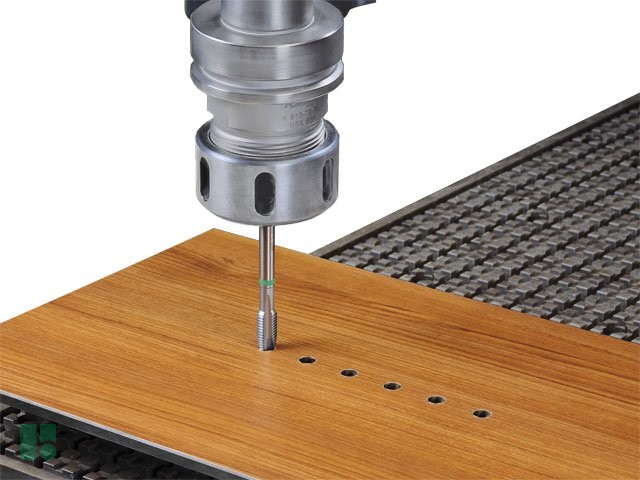 Engraving
Your future field of application is not only limited to wood. Special equipment features also allow the processing of Alucobond.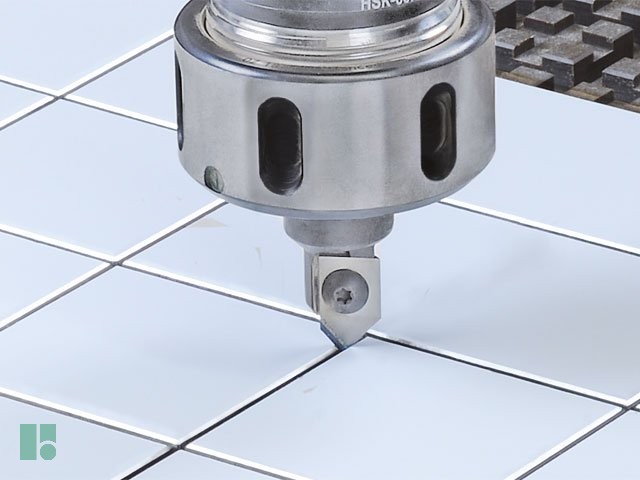 Ease of use and operational safety in the FORMAT-4 electrical cabinet
The operating unit of the CNC machining centre is at the same time a major component of the Format-4 operating safety concept. A light sensor monitors the access to the danger area and additionally to this an emergency stop switch makes it possible to abort the program that is currently running. As well as numerous electrical components, the electrical cabinet also contains the central CNC control unit. The clear LED colour monitor keeps you informed about all of the important data relating to the program, workpieces and machine configuration. A potentiometer and USB port complete the electrical cabinet as the heart and brain of the profit H08.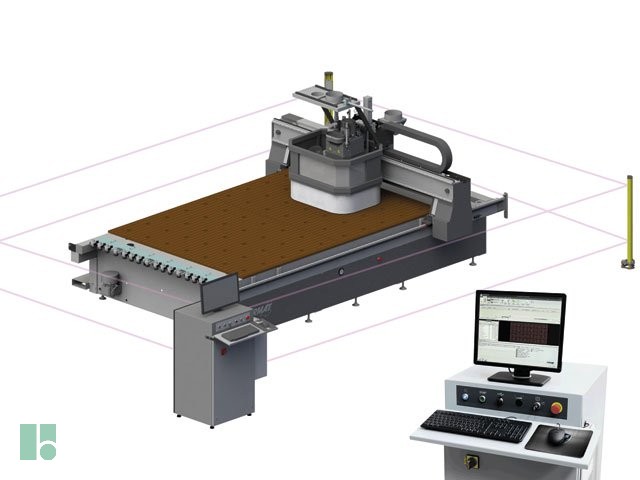 Additional sealant for extreme operating conditions
Heavily dusted materials can increase the amount of maintenance required on your CNC machining centre massively. Additional sealant on the guiding carriage and linear guides closed off by brass caps guarantee a noticeably higher operating life, even with heavy use.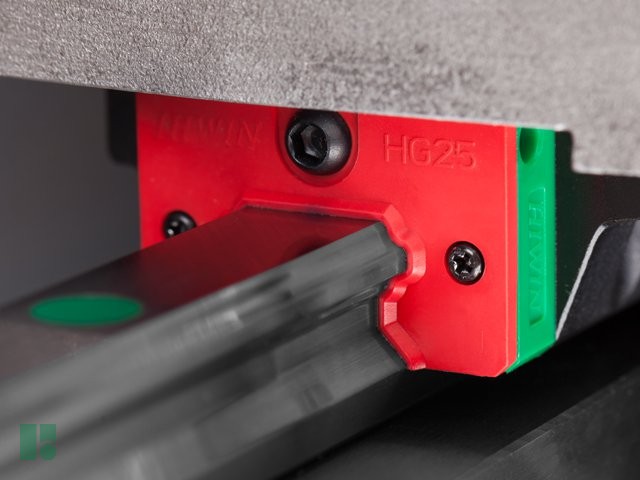 Format-4 software - programming is child's play
With the software that has been especially developed for the machining centre, Format-4 offers a reliable complete package that is of a different class. 2 different control variations are available to ensure professional CNC processing: "Compact-control" makes it possible to run ISO-codes and Woodflash programs from external software solutions in conjunction with the Format-4 machining centre. "Wooflash-control" is the tried and tested Felder in-house developed software solution for simple and efficient programming. Quick program creation and high automation possibilities, a variety of nesting applications as well as barcode connection for networked workshops guarantees efficient programming and high productivity.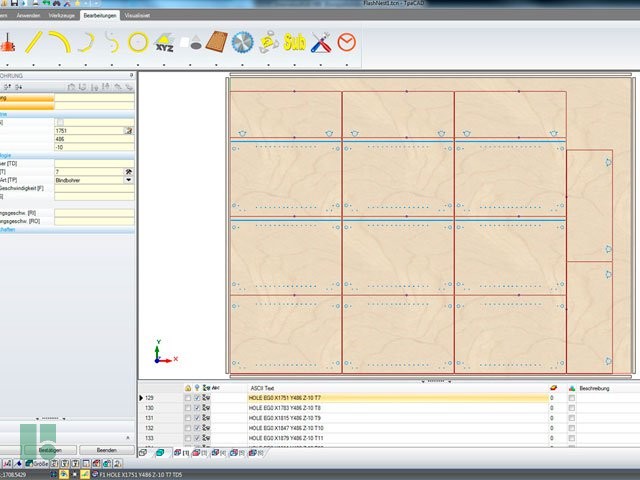 Customised maintenance complete package
The permanent availability of modern production machines is an important influencing factor for the productivity and profit of your company. Continuous, preventative maintenance ensures that your machine is always ready to be used and guarantees constant precision. With our customised maintenance packages, you profit from a long term, continuous high quality of the end product. Additional to a complete machine maintenance check, all of the electrical, pneumatical and mechanical components as well as all of the safety features will be tested. You profit then from a free Hotline Service and will receive special conditions on software, training and spare parts. Get your customised maintenance offer now and guarantee perfect results for years to come.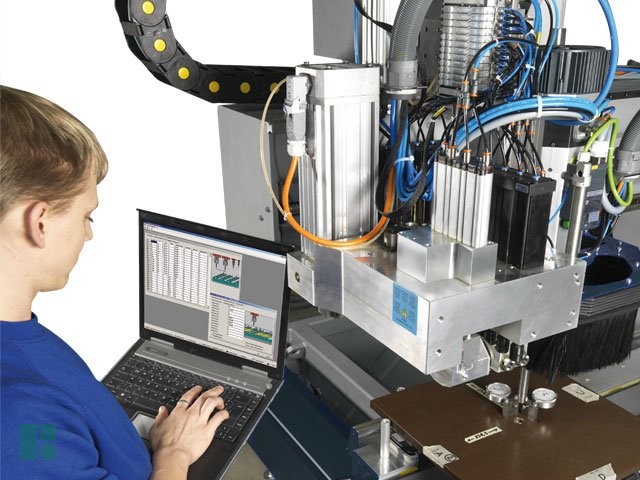 BRAND: FELDER - FORMAT4
MODEL: profit H08 - 21.31
check_box
EC legislation:
Compliant
Request infos
FELDER – FORMAT4 profit H08 – 21.31