Description
Assembly bench for frames
BAUSOLA BAT
A perfect bench for assemblying frames, false door frames, doors and windows.
Through pneumatic manual controls tires it permits the latch of horizontal part with the vertical one.
Closing horizontal centering.
The brackets are drilled at 90 degrees in order to be able to insert nails, staples or fixing screws.
Content in the bulk.


Optionals:
N. 8 SUCTIONS CUPS for seal and housing of glass (Venturi System) fully supported in order to fix the bench.
N. 1 Central glass support adjustable in height
Technical Specifications:
Working maximum size 2950 x 2500 mm
Working minimum size 430 mm. (manual movement of the bar) x 450 mm
Structure
Base in rigid electrowelded tubular.
 
Supporting shoulders adjustable in width with self-centering positioning, composed of solid aluminum profiles and profile support brackets.
Assembly
Example of assembly of a wooden door frame.
 
Thanks to the customized brackets it will be possible to keep the alignment between uprights and transoms in wood or materials composed of wood-PVC and wood-aluminum.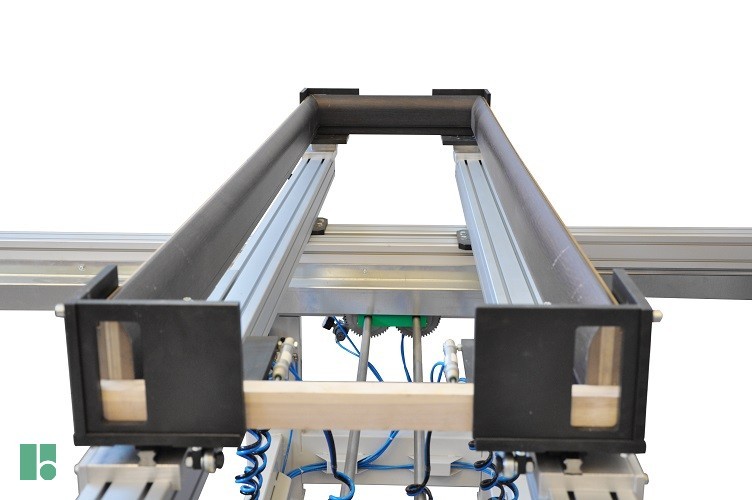 Piston of adjustment parts
During the height closing of the bench, the alignment piston guarantees the correct approach of the vertical upright to the supporting shoulder.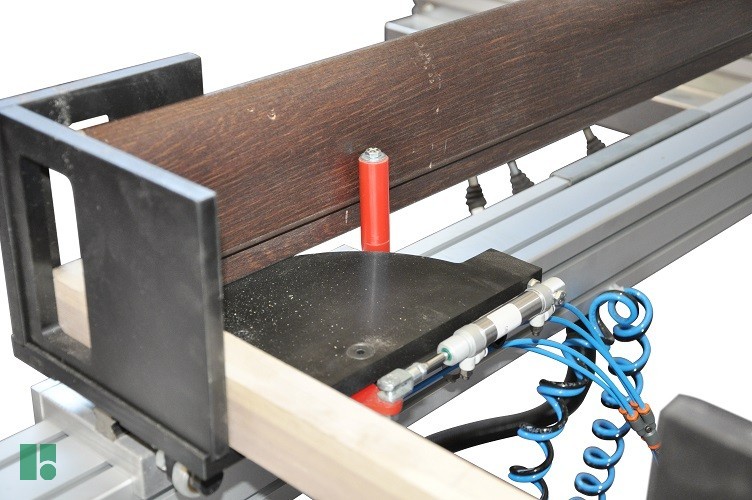 Mechanical centering opening
Self-centering mechanical opening system of the left and right shoulder of the bench.
 
The locking piston allows the desired width to be positioned to size.
 
Pinion and rack with straight teeth coupling.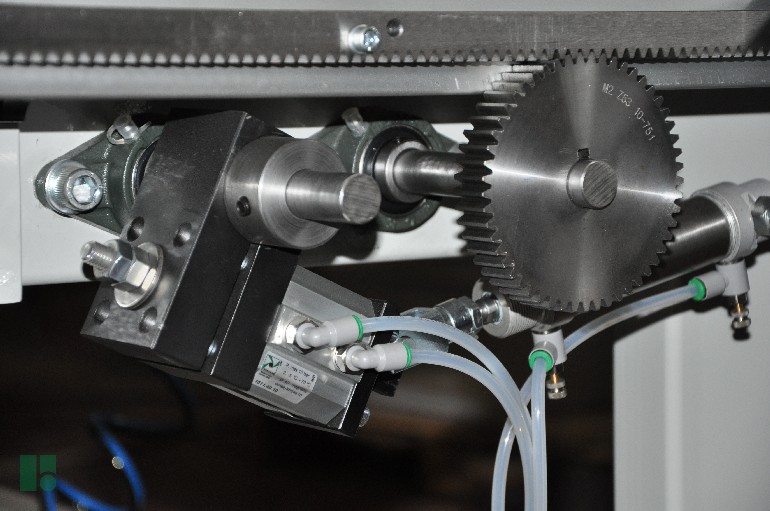 Manual control panel
Through the appropriate levers it is possible to control the movement and consequent opening / closing of the bench.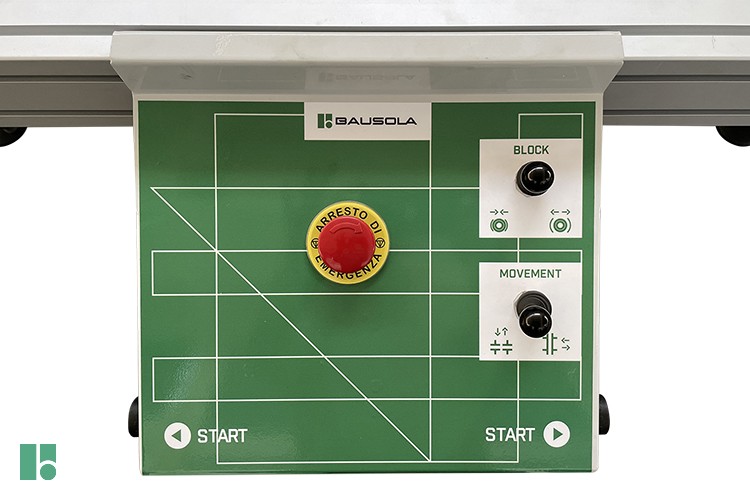 Height adjustment flyer (Optional)
It allows you to adjust the height of the central glass support, in order to simplify the glazing leaf profile tightening maneuver.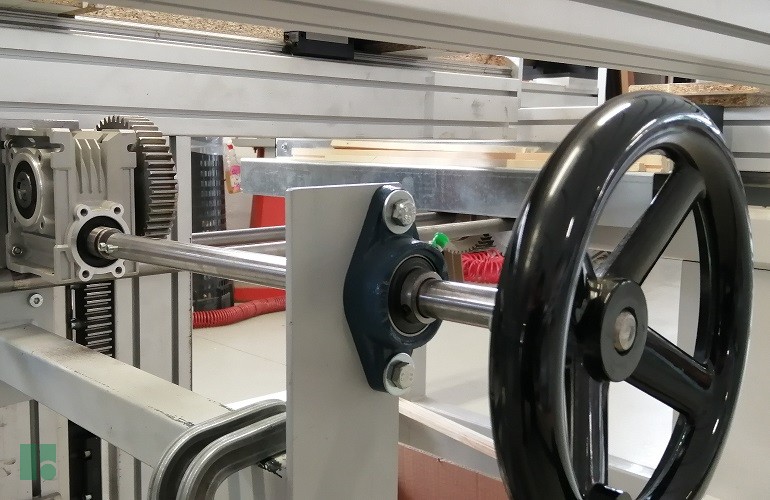 Glass support (Optional)
Arms for glass support, equipped with cylindrical pads covered with scratch-resistant and non-slip felt.
 
The central joint of each of them facilitates the support of different dimensions of the glass plate.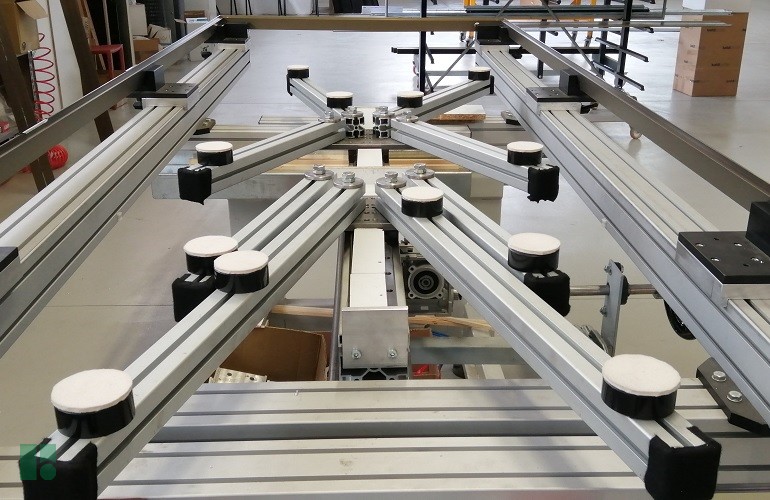 Glass doors
Example of tightening on the bench of a door after mounting the glass on the profiles.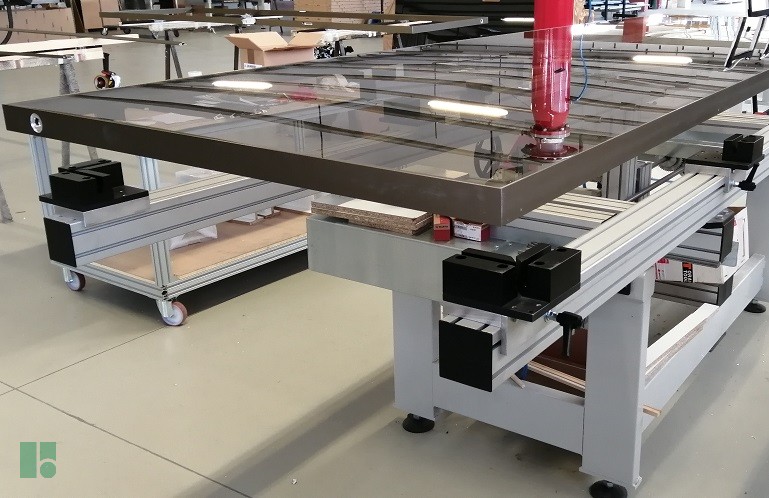 Door frame assembly example
Thanks to the reduced overall dimensions of the bench, it will be possible to simplify the operations of the personnel during the assembly phases.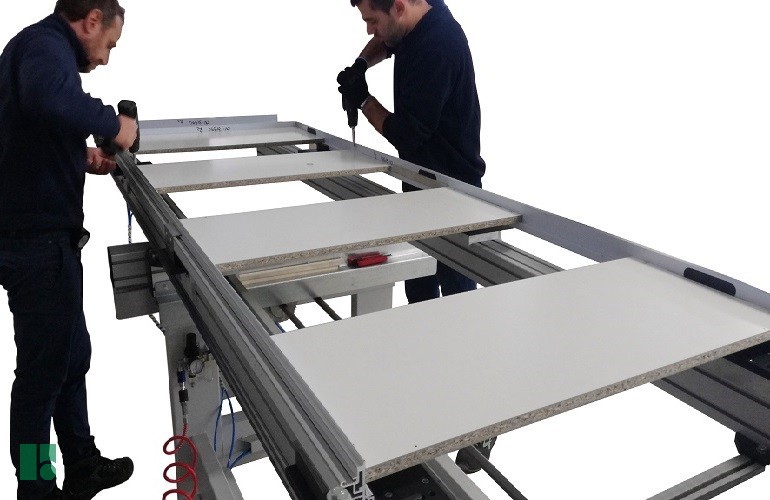 BRAND: BAUSOLA
MODEL: BAT
check_box
EC legislation:
Compliant
Request infos
BAUSOLA BAT