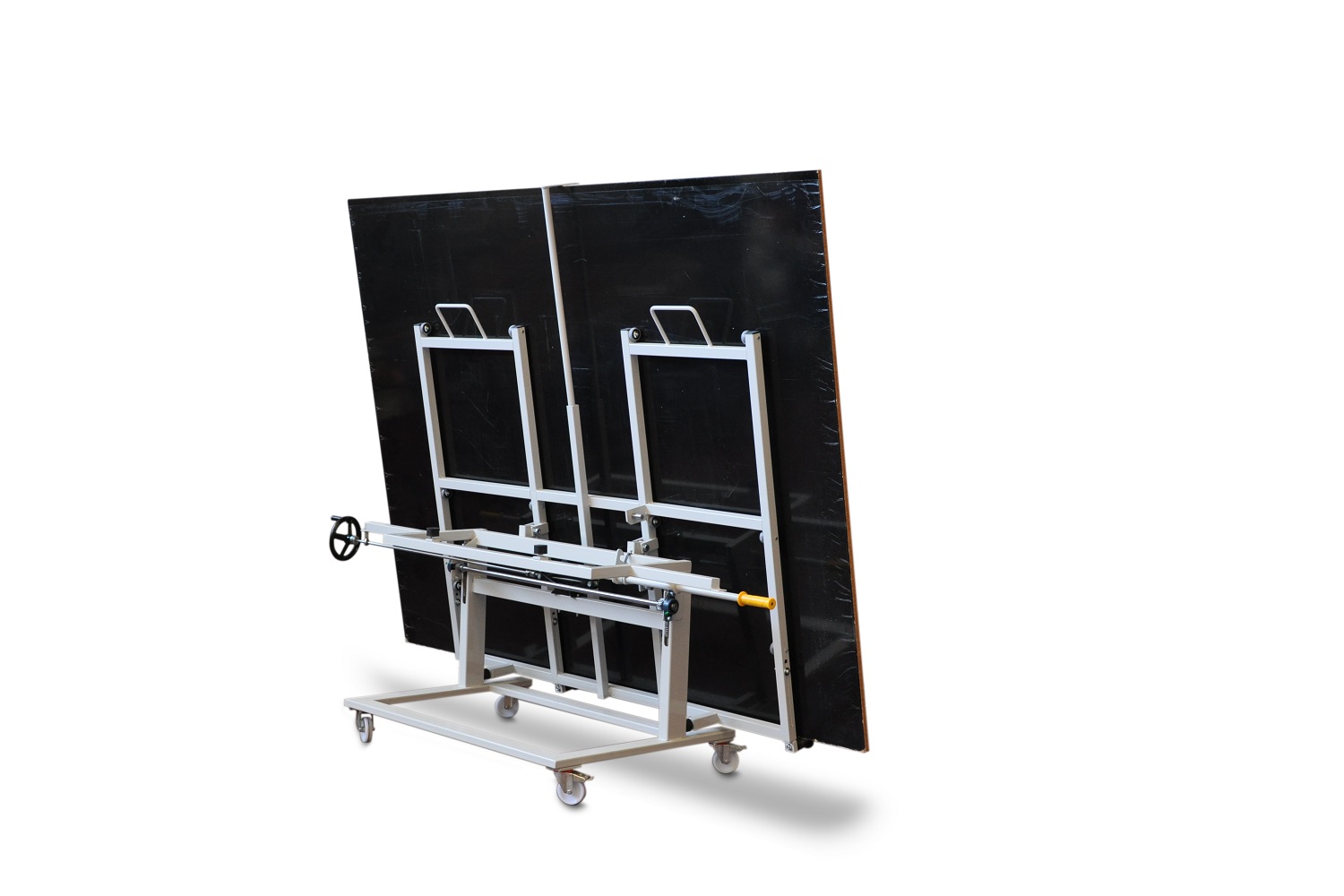 Description
Panels movement trolley
BAUSOLA CMP 0-90
Adjustable trolley for panels will simplify the work for your staff,it will help them to lift hard panels in horizontal position ready for next working.
You can carry them perpendicular without any problems and put the panels horizontally way for next process.
Compact structure.
Assured stability owing to 4 swivel wheels in whick 2 brakes.
Strong structure.
Panels transport with sizes untill 5200 x 2200 mm.
Capacity 200 Kg.
Technical specifications:
N. 4 polyamide wheels Ø 80 mm
N. 2 swivels with brake
N. 2 swivels without brake
Horizontal position of trolley
Made of electrowelded tubular steel on which a manual overturning plan has been made, to allow the panel to pass from vertical to horizontal and vice versa.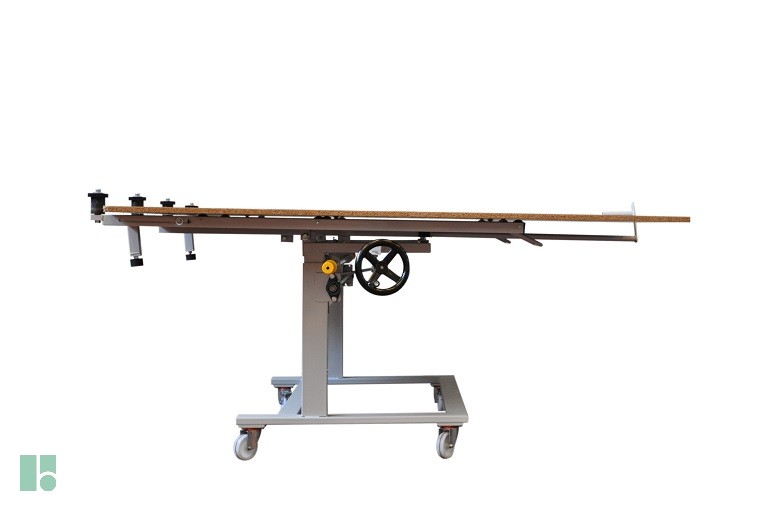 Trolley in vertical position
Practical for movements within work areas, as in this condition the dimensions are reduced considerably facilitating the operator in moving the panels.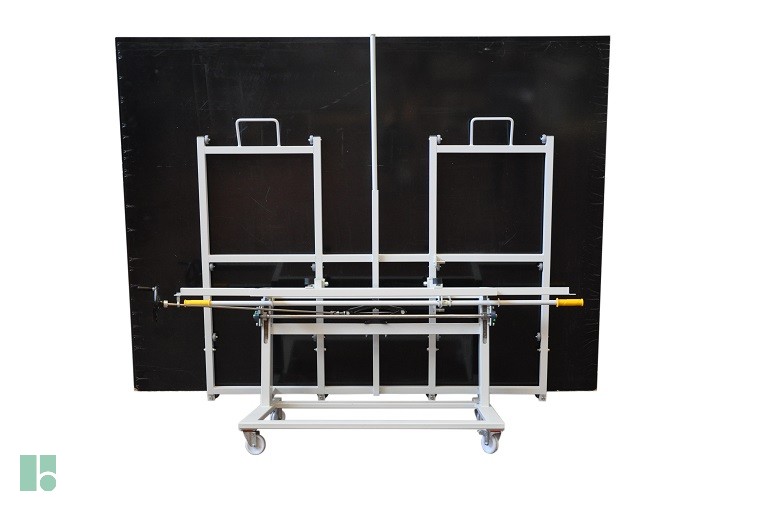 No overturn hook
Simple and effective manual device, allows the operator to lock the panel, eliminating the risk of tipping during handling operations.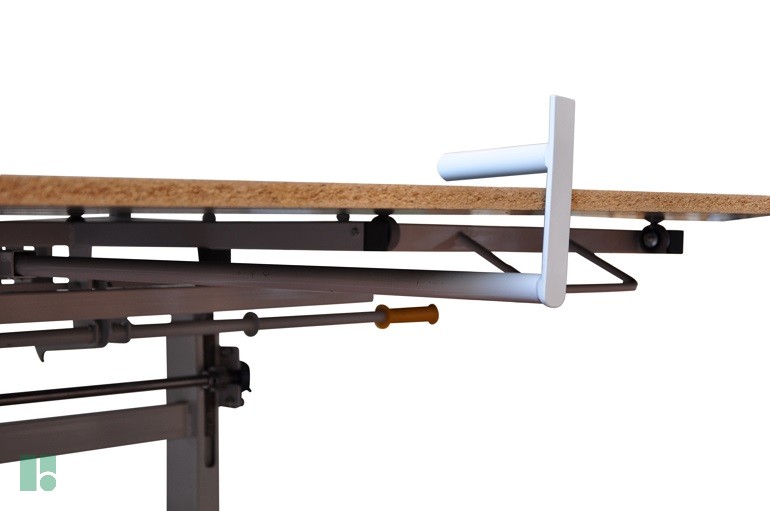 Rubber-coated handle and wheels
On the panel support structure, there are also:



2 special handles to facilitate tilting from horizontal to vertical position and vice versa




12 rubber-coated swivel wheels, which allow the panel to slide on the supporting surface, avoiding damaging sliding of the material being processed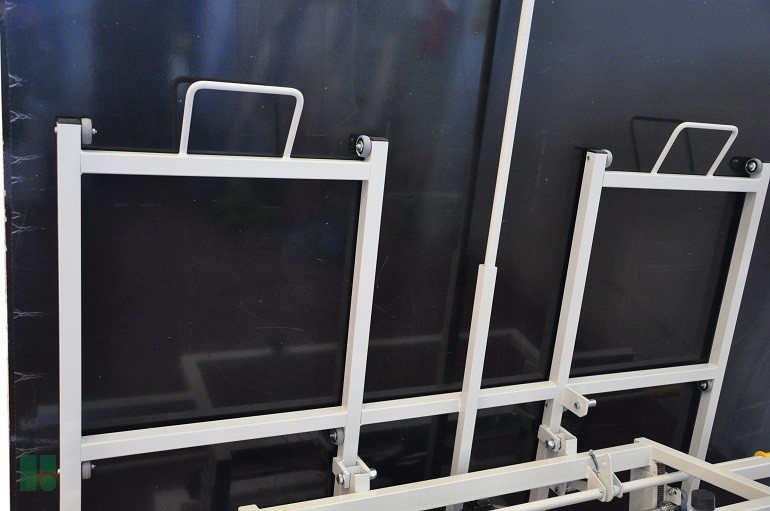 Shock-proof limit stop holders
On the structure of the trolley there are 4 shock-resistant supports, which allow the tilting plane to rest gently both in a horizontal and vertical position.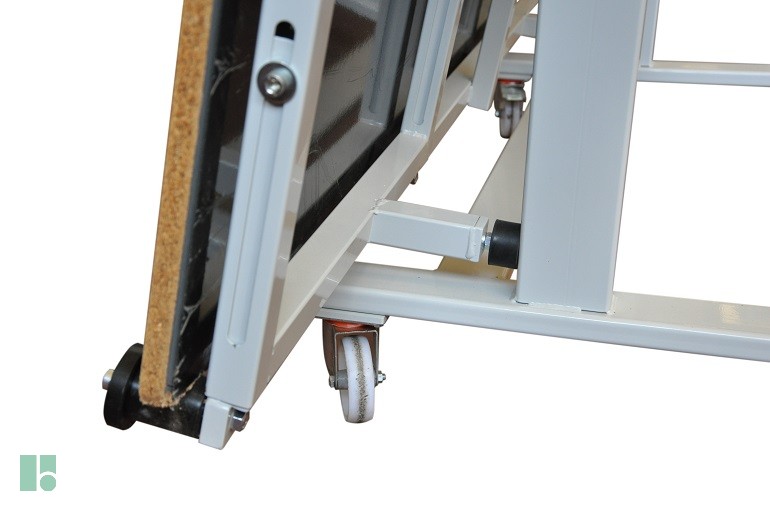 Adjustable lower sliding wheels
Allows height adjustment of the side support and sliding wheels.
 
This expedient facilitates the storage of the panel within its own warehouse, and makes it possible to manage different heights.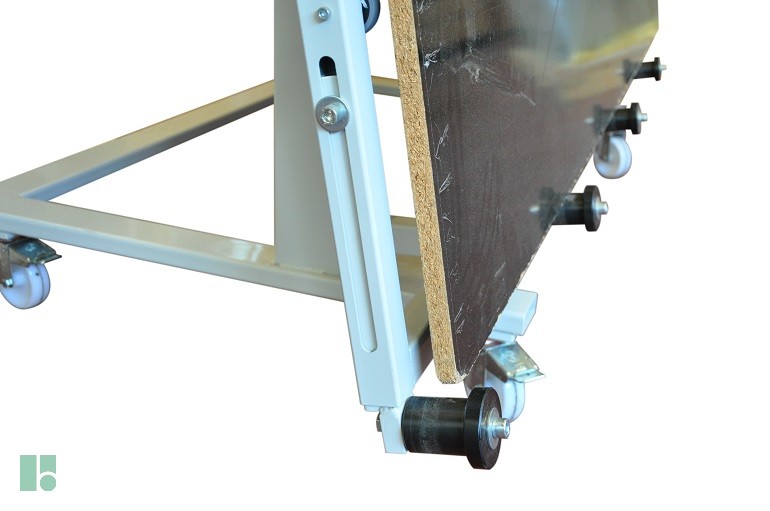 Manual trolley controls
The following manual controls are located on the side of the trolley:



Folding top height adjustment handwheel




Safety hook control handle (yellow) for carriage locking in horizontal / vertical position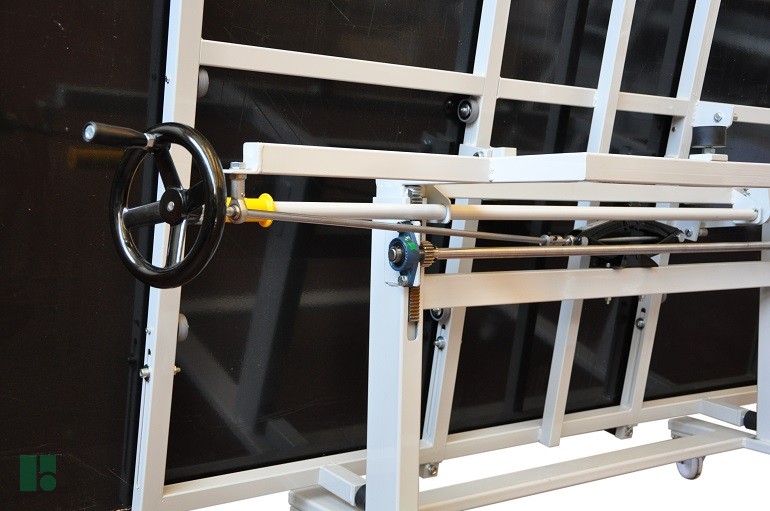 Locking hooks
Inside the trolley, two locking hooks are positioned, controlled by a special manual knob.
 
This is useful for the operator in order to control the release of the tip-up table during the transition from horizontal to vertical.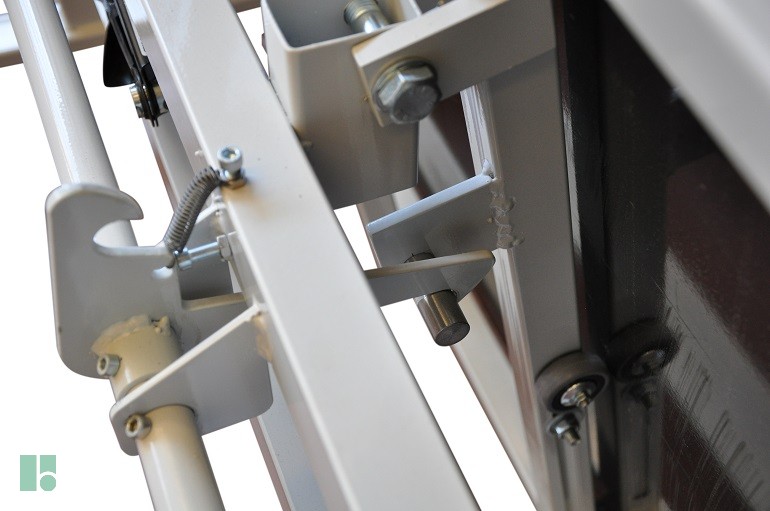 Trolley complete with rubber wheels (Optional)
Ideal for handling the trolley on disconnected and uneven surfaces.
No. 2 revolving with brake - No. 2 swivels without brake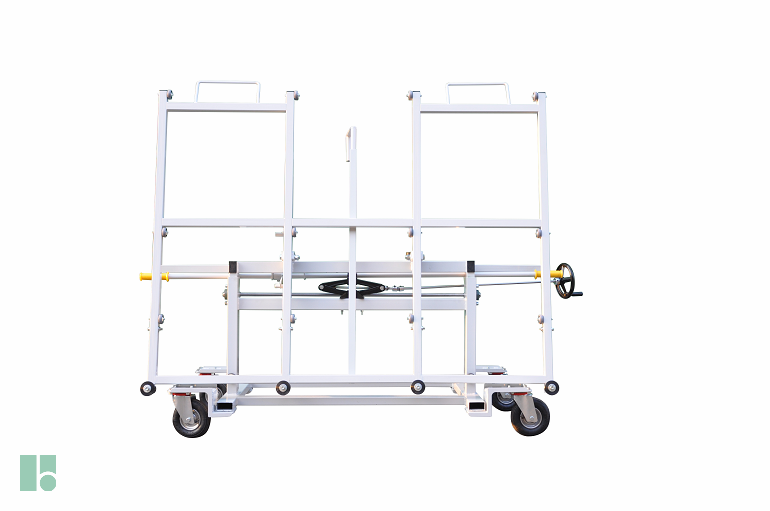 Support + Inflatable rubber wheels (Optional)
Essential accessory for the movement of the trolley on disconnected and irregular surfaces.
N.2 wheels diameter 200 mm swivel with brake and N.2 swivel without brake
Reduction of trolley capacity 120 kg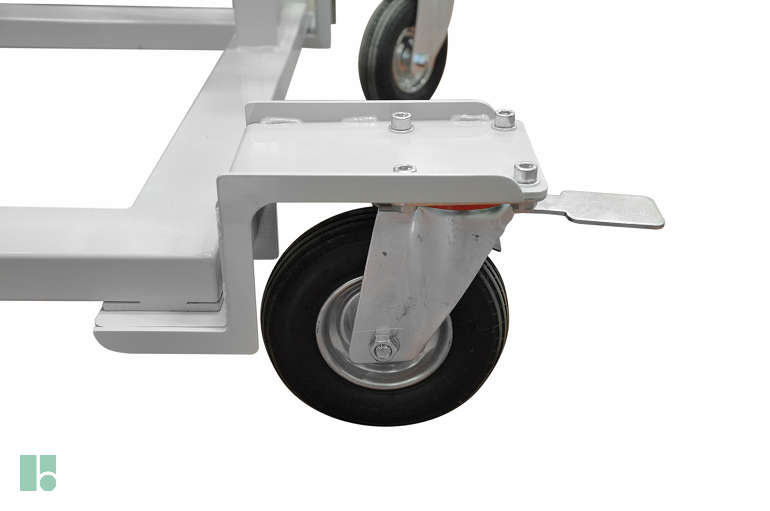 Extensions
Pull-out right and left side supports complete with rubberized
wheel improve the support width of the large panel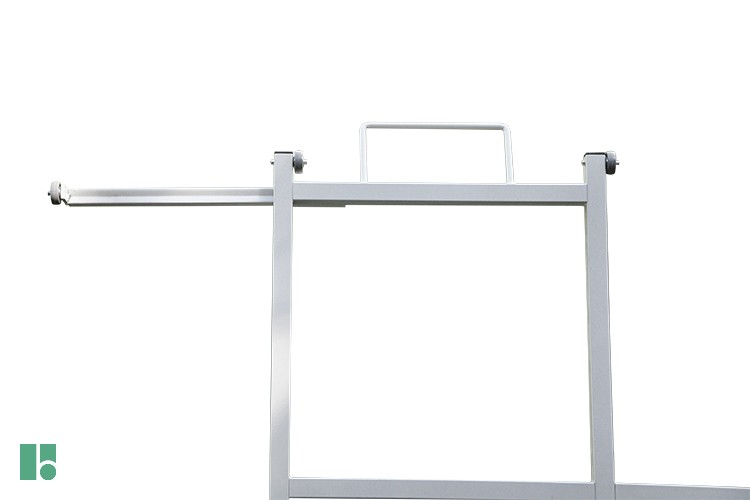 BRAND: BAUSOLA
MODEL: CMP 0-90
check_box
EC legislation:
Compliant
Request infos
BAUSOLA CMP 0-90